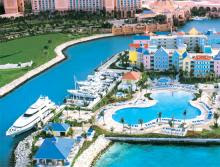 The Harborside Resort at Atlantis, in Paradise Island, Bahamas is an amazing mega-resort offering over 250 timeshare rentals in every price range. Built on a grand scale in the fantasy design of ancient Atlantis, this resort is one of the top vacation destinations for people from all over the world. The resort's natural beauty is perfect for relaxation, and activities such as the 50,000 sq. foot casino, and the theme park Aquaventure, are perfect for excitement and a "must see" for vacation travelers.
Miles of sugar white sand beaches along the crystal turquoise waters of the Caribbean make the Atlantis resort the quintessential Bahamas destination. What you've ever dreamed of the Bahamas being you'll find right here at the Atlantis. Along with much, much more.
This resort has morphed into a tourist attraction in and of itself. Spread over 63 acres is the theme park Aquaventure, the world's largest outdoor marine habitat. Thrill rides here include The Current-River Ride, a mile-long inner tube ride that includes lifts and drops, a stretch of white water rapids, and an 80-ft long section of underground tunnels and caves. The Power Tower waterslide is 120 feet high with four ways to get down including The Abyss, The Drop, and The Surge. These thrill rides are made even more exciting with special effects including fire, water, smoke, fog and high-tech video effects.
Besides Aquaventure, the rest of the Atlantis resort's 140-acre waterscape includes lagoons with sharks and pools with manta-rays, and a waterslide designed like a Maya Temple ruin. There is even a special "waterplay zone" for kids that includes a kiddie pool with a slide and even waterfalls. And try the fun aqua-trikes on the beach.
The Atlantis resort is great for adults with the casino, spa and gym, and great for kids with the water activities, KidsClub at Atlantis, and baby-sitting services. Perfect for budget-minded families, you'll find yourselves also sharing the resort with numerous celebrities. So look through the many timeshare rentals and find one to fit your budget for a truly remarkable family Caribbean vacation.