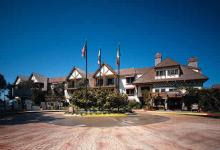 Timeshare owners concerned about the environment will be please to learn that Grand Pacific Resort Services (GPRS), has formed a "Going Green Committee" to create new operational strategies for implementing environmental initiatives to reduce impact, and satisfy owner and guest expectations for environmentally conscious hospitality practices.
The program covers four areas:
Water

Linen and towel re-use program
Shifting laundry operations to off peak hours
The use of low flow shower heads and water aerators
Installation energy efficient commercial washers / dryers

Air

Each room has a standardized ambient thermostat setting
Guest education regarding air conditioning usage and open windows

Energy

Energy management controls on hot water systems to reduce gas usage
Compact fluorescent lighting for each room (CFL)
Installation of "Cool Roof" products for resort roofing

Waste

Recycling containers available in each unit and at the elevators
"Thinking Green is not just the 'right thing to do;' in the long run it is fiscally responsible and adds to the overall stay experience" said Vice President of Resort Operations Nigel Lobo. "Our terrific in-house Going Green Squad is comprised of representatives from each one of our resorts. They are continually coming up with great ideas and solutions as we do our part to think and act Green."
GPRS is one of the oldest and largest timeshare vacation ownership companies in California. Some of their more popular resorts include: Grand Pacific MarBrisa Resort, Grand Pacific Palisades, Coronado Beach Resort, Carlsbad Inn Resort (photo shown above), Carlsbad Seapointe Resort and the Southern California Beach Club.
Categorized in: Carlsbad Inn Resort, Carlsbad Seapointe Resort, Coronado Beach Resort, Grand Pacific MarBrisa Resort, Grand Pacific Palisades, Grand Pacific Timeshare, Southern California Beach Club, timeshare