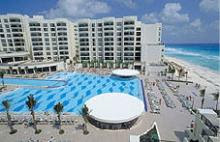 Spring Break season is upon us, and many of you will be heading to a Mexico timeshare. The resorts south of the border offer sun, sand, snorkeling and great nightlife. Even though it's a quick trip from the U.S. mainland, when you travel to Mexico, you are heading into a foreign country. Here's some travel tips to prepare you for your entry experience into Mexico.
Entry Requirements
You will need either a passport book or a passport card when traveling by land or sea. The passport card is invalid for air travel so you must have a passport book if you will be flying to your Mexico vacation. For more information on these documents visit the U.S. State Department's travel website.
Mexico will also require you to have a Tourist Card. This two-part document is your "permission" by Mexico to enter the country. You can get them from your airline when you check in, or at Mexican Immigration upon arrival.
Be sure to bring a black ball-point pen with you to fill out the forms as there won't be any to borrow. Do not deface or lose the bottom portion of the form that is given back to you when you pass through Mexican Immigration. That portion must be returned to Mexican officials when you depart the country.
Be sure to keep your Tourist Card and all of your travel documents in a secure place. Unless you will be traveling extensively from your point of entry you shouldn't need to carry them with you.
Going Through Customs
Mexico has instituted a "European-style customs inspection system, with a twist." Here's the way it works: You will complete a customs declaration form, and then you'll choose to either declare or not declare if you are bringing in items beyond your allowance.
If you declare items, your belongings will be searched and duty collected. If you are not declaring items you will be required to push a large button on a post mounted inside the customs area. This is the "red light/ green light signal" that is the unusual aspect of Mexican Customs. After pushing the button you'll randomly receive either a green light – which means you can pass on through customs without your luggage being searched, or a red light which means you will have your bags investigated. The screener is looking for contraband, and for items that you may have failed to declare on your customs paper.
Knowing what to expect, and having all of your documents in place, before entering Mexico will help you arrive at your Mexico timeshare destination ready for a relaxing vacation this beautiful country. For ideas about where to rent timeshares for a fun-filled Mexico vacation, see our previous post "Planning a Mexico Timeshare Vacation."
(Photo shown is The Royal Sands, Cancun.)
Categorized in: Mexico timeshare, rent timeshares, timeshare vacation, travel tips