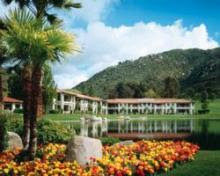 The Welk Resorts have announced record sales in 2009 of the Welk Resorts Platinum Program – a multi-resort, points-based, timeshare ownership program – beating its budget by 15%. "Even in these rough economic times we found that adhering to our core competency in providing an excellent product at affordable prices helped us achieve over $72 million in net revenue," stated Welk Resorts President Jonathan Fredricks.
"We've also concentrated on retaining a consistent, excellent and well-trained staff, many of whom have been with us for more than two decades," added Don Dubin, Sales and Marketing Director. The Welk Resorts offers high-quality accommodations and top-rated service at popular destinations such as Escondido, California; Palm Desert, California; Maui, and Branson, Missouri and serves over 40,000 families.
The Welk Resorts are a legacy from the famed band leader, Lawrence Welk, who had the top popular music show on ABC television for 27 years. He then created the Lawrence Welk Network and syndicated his show for another 8 years. For the past 15 years the original programs have aired on PBS.
As the story goes, in 1964 Lawrence Welk went for a drive through the country side north of San Diego, planning to invest in a grove of orange trees. Instead he bought a motel and a nine-hole golf course. When he staged one of his television shows there fans began to flock to the area, and the resort grew to include a live-performance theater, more golf, and timeshares.
The company continues to be family-owned, with Lawrence Welk's grandson, Jonathan Fredricks, acting as president. Fredericks believes that running the company based on his grandfather's sense of ethics and the importance of always giving his fans the very best he could is what makes the Welk Resorts so successful.
The company' newest resort is being built in Cabo San Lucas, Mexico. Sirena del Mar is a luxurious 7-acre resort perched high on the cliffs of the Cabo San Lucas peninsula, affording spectacular sunset views. The first phase, scheduled for opening during the spring of 2010, has presold 70%.
Some of the Welk timeshares for rent and for resale include:
Lawrence Welk Resort Villas (Pictured above)
Lawrence Welk's Desert Oasis
Lawrence Welk Resorts Mountain Villas
Villas on the Greens at the Welk Resort
Categorized in: Lawrence Welk Resort Villas, Lawrence Welk Resorts Mountain Villas, Lawrence Welk's Desert Oasis, timeshares for rent, Villas on the Greens at the Welk Resort, Welk timeshare resorts