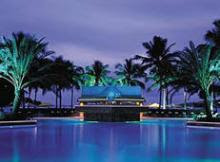 The Westin St. John – Virgin Grand Villas resort has been listed on the Top 25 Timeshare Rental Resorts by RedWeek users. Located on 46 acres of beautiful real estate on St. John Island in the U.S. Virgin Islands, this is a premier beach resort. Plan your vacation with a timeshare rental, and experience why the Westin St. John is rated so highly.
This resort has it all from a Kids Camp to water sports (no charge for the toys). The outstanding fitness center and health club is also no charge. There are 6 lighted tennis courts (no charge), and in-room high speed internet (no charge.) From the stunning sunsets to the reggae and calypso music in the lounges, a stay at this resort will get you into the true Caribbean vacation mode.
The U.S. Virgin Islands are America's own Caribbean vacation getaway and St. John has been called "a wonder of unspoiled beauty." The smallest of the U.S. Virgin Islands, fully two-thirds of the island is a National Park. Funds to purchase fifty percent of the acreage that is now the National Park was donated by Laurence Rockefeller, and the park was dedicated in 1956.
In 1962, Congress approved legislation extending the park's boundaries to include 5,650 acres of offshore submerged lands, containing beautiful coral formations and rich forms of tropical marine life. Here at Trunk Bay is the much acclaimed 650-ft underwater marked snorkel trail for which St. John is so famous.
The park contains several of the Caribbean's best beaches, 20 well-maintained hiking trails, historic ruins, archaeological sites and the 1,277-foot peak of Mount Bourdeaux. The park rangers offer numerous guided tours and hikes to show off the island's more than 800 species of plants and 160 species of birds. There are 30 pristine white sand beaches on the island, all within easy reach of the Westin St. John resort. The resort offers car and jeep rentals on site so you can easily explore this amazing island.
St. John celebrates Caribbean life with several musical festivals and celebrations. The last week of June is Carnival, which continues through America's Independence Day, and that stretches into a week's worth of fireworks and celebration.
A Caribbean vacation in a budget timeshare rental at top-rated Westin St. John – Virgin Grand Villas…what more could you ask for!
Categorized in: Caribbean vacations, redweek, timeshare rental, Westin St. John