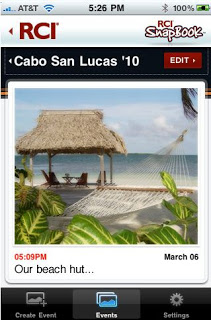 Resort Condominium International (RCI), one of the Wyndham Worldwide family of companies, is offering an iPhone® and iPod touch® device application for timeshare travelers. Those who download and use the tool can enhance their timeshare vacation experience by taking advantage of the following features:
Capture and Share
By using the RCI SnapBook™ option, users can capture pictures, videos, audio or notes from their vacation and easily share those experiences with family and friends on the web site RCISnapBook.com.
Geo-Tagging
From your iPhone, each time you captured photos and videos, the content can be time and geo-stamped. By doing this, users can easily track exactly when and where their vacation memories took place.
Interaction with RCI TV
The RCI TV feature give users the ability to view and share location-specific videos from RCI TV. The videos highlight activities and characteristics that are unique to the vacation destination and can really get you excited about a planning your next vacation.
Initial feedback from users shows that improved functionality is needed. Users want to be able to manage their personal RCI account from the tool. The ability to search for timeshare vacations and make a timeshare exchange reservation directly from the application, round out the top requests.
Categorized in: RCI, RCI TV, Timeshare Exchange, timeshare vacation