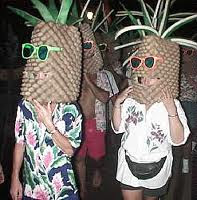 Rent a Maui timeshare and experience a Hawaiian Halloween. Did you know that Halloween on Maui has been called the "Mardi Gras of the Pacific?" Who knew! You'll find this Maui Halloween celebration in the town of Lahaina. In fact, Halloween week is the most booked time in Lahaina outside of the winter vacation season.
Lahaina is located on the west side of Maui, and is the gateway to the famous Kaanapali Beach Club and Kapalua beach resort areas. This fascinating town was once the capital of the Kingdom of Hawaii, and during the 1800s Lahaina was the center of the global whaling industry, with many sailing ships anchored at its waterfront.
Today it is one of the most popular tourist destinations in Hawaii. With historical forts, famous historic buildings, the fascinating whaling museum, and an amazing banyan tree, your family will find plenty to do between hunting for ghosts and running from goblins.
In the past the Lahaina Halloween celebration was sanctioned by the Lahaina's town council, but 2010 will find many permits denied due to the fears of some members that Halloween is not a good mix with historic Hawaiian culture. However, many events and activities are still planned, including the wildly popular Keiki Parade (see photo).
This children's costume parade starts in the afternoon, and hundreds of keiki-sized ghosts, goblins, superheros, and Hawaiian characters will march. As a spectator be sure to bring plenty of candy – at this parade you will be tossing candy to the parade participants rather than the other way around!
Children friendly events will also be held at many of the major retail centers. The Lahaina Cannery Mall, Queen Ka'ahumanu Centre, Maui Mall, Pi'ilani Shopping Village, and the Shops at Wailea will all host activities for keikis including costume contests, spooky Haunted Houses, and kid-friendly Ghost Story times.
Adults will find plenty of Halloween activities on Maui, too. Many Lahaina night clubs are decorated in the spirit of this ghoulish celebration, and have costume contests along with Halloween themed drinks and menus.
You can also head over to Maui's north shore where the small artsy town of Paia also goes all out for Halloween. This community has a lot of fun decorating its art galleries and boutiques in Halloween themes. For example one gallery likes to fill it's windows with the tombstones of dead artists such as the likes of Andy Warhol, and a clothing boutique displays the most fashionably-dressed skeletons on the island. In addition to the holiday displays, the town will host a massive Halloween bash featuring costume contests, kids' activities including trick-or-treating, a haunted spa and late-night dancing.
Rent a Lahaina timeshare on Maui and celebrate Halloween with the Aloha spirit!
(Photo credit psmaui.com)
Categorized in: Kaanapali Beach Club, Lahaina timeshare rentals, maui timeshare, rent a timeshare