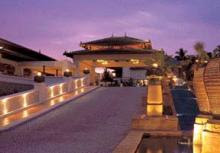 Can you imagine staying in exotic Thailand for just $125/night? This dream vacation can be yours by renting a timeshare at Marriott's Phuket Beach Club. Read on to find out why RedWeek members love this resort!
Located on Thailand's southern island of Phuket, this Marriott resort offers the best in an exotic beach vacation. Phuket Island is situated off the west coast of southern Thailand in the Andaman Sea, and is connected to the mainland by two bridges. Phuket enjoyed a rich and colorful history as one of the major trading routes between India and China, and was frequently mentioned in foreign ship logs of Portuguese, French, Dutch and English traders.
Since the 1980s the sandy beaches on the western coast of Phuket have been developed into tourist centers. It's a great place for a winter vacation, with average daily temperatures in the 80s (F). Near the southernmost point is Laem Promthep (Brahma's Cape), a popular sunset viewing point.
Situated just fifteen minutes north of the airport, Marriott Phuket Beach Club Hotel is on Mai Khao Beach, a ten mile stretch of natural beachfront without the highrise development so prevalent in other parts of Phuket Island. The Nai Yang National Marine Park and sea turtle nesting area are nearby.
Marriott's Phuket Beach Club is fully integrated with the JW Marriott Phuket Resort and Spa, and guests can enjoy the amenities at both resorts. It's set amid twenty-seven acres of lush tropical landscaping including ponds, spacious gardens and areas of coastal wetlands.
Redweek members give Marriott's Phuket Beach Club an overall rating of 5 stars. Here are a few of the reviews:
"This is a stunning, all star resort. In terms of luxury, beauty and service quality, there is nothing better than the Marriott Vacation Club property in Phuket."
"We have been to this resort 3 times and have not found a place in the world yet to match it. We LOVE this place."
"We have stayed at the resort twice and it has been amazing. The staff is great, they usually anticipate your needs! Rooms and resort are top tier, furnishing and atmosphere fit perfectly with the tropical environment. It is outside of town, north of the airport. The beach is quiet, very little hustle and bustle or people. However, Marriott has a shuttle to get you into town, easy to find nightlife if you want."
So for an exotic timeshare rental beach vacation – head to beautiful Phuket, Thailand.
Categorized in: beach vacation, Marriott's Phuket Beach Club, renting a timeshare, timeshare rental