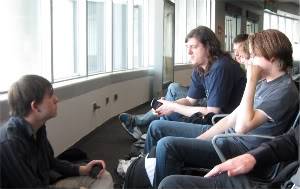 If you are flying to a timeshare rental vacation this holiday you can find yourself stuck in an airport with nothing to do if (1) you followed expert advice and got to the airport early so as to slip through security hassle-free, (2) your cheap airfare has you changing planes several times before getting to your destination, or (3) you're grounded due to a Midwest blizzard.
Here are some great tips from LonelyPlanet.com author, Ali Lemer, on how you can endure airport boredom:
Lounge Around
Once reserved for those in First Class, deluxe lounges can now be your home away from home – for a few hours, anyway – for a small fee. At minimum they usually have comfy seating, newspapers and magazines, a food buffet and free wi-fi.
People Watch
If there's anything airports are rarely short of, it's people. Take an interest in your fellow travelers: play detective and see how much you can figure out about them through your powers of observation (or play fashion police and judge their bad taste in clothing instead). If you enjoyed the film Love, Actually, reenact the opening scene by watching the emotional reunions at the international arrivals gate. Bring your own tissues.
Take a Day Trip
If you've got an extra long layover between flights, consider skipping the airport experience altogether and play tourist downtown. An easy way to quickly have a sight-seeing tour is by Greyline bus tours, available in most major cities. Many city airports have direct shuttle or bus service downtown.
Exercise
If you can feel your muscles atrophying from all those hours in the air, hit the gym. Many airport hotels have fitness centers with day passes available for the public and some are even open 24 hours. If you don't have time to go to a gym – get on your feet and take a brisk power walk around the terminal, mall-walking-style.
Enjoy Some Quiet Time
Most airports have chapels and 'quiet rooms' that are good for a little bit of solitary introspection, whether you want to pray, meditate or just contemplate life in silence for a while. If you feel like you really need some spiritual guidance, many large airports have Anglican and Catholic chaplains, Buddhist, Jewish, Muslim, Hindu and Sikh faith representatives on call.
Categorized in: airport layover, things to do at the airport, timeshare rental, timeshare vacation