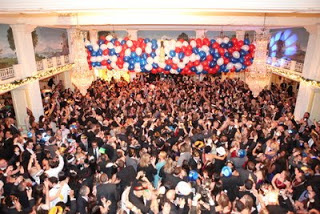 If you're looking for a really fun but really different way of celebrating New Year's Eve, rent a timeshare and head to Washington, D.C. Things To Do® DC (TTD) produces "original events that enrich your social and cultural experiences," and they're pulling out all the stops for New Year's Eve.
TTD has worked with several of the Embassies in Washington, D.C., to offer black-tie galas where you can experience culturally authentic New Year's Eve celebrations as if you were truly in that foreign country.
If it's hard to decide just what country, or what city, you'd like to visit on New Year's Eve, TTD's New Year's Eve Gala at the Willard Continental offers you 10 cities in one night.
With ten city-themed rooms, you can hop around the world and around the United States in one night, and still be able to ring in the New Year at midnight!
TTD lists their world extravaganza like this: The majesty of Times Square, New York, The high energy of Europe's hottest, The fever of Las Vegas The mystery of the Pan African Nations, The salsa fiesta of Havanna, The spirit of Dublin, The ecstasy of Bollywood, The charm of Tokyo, The stimulation of the Caribbean.
The city themes include music and food. For example, New York City, where hip and trendy DJs keep the vibe alive; Chicago in the Roaring 1920s with a fun swing band and, of course pizza; Havana with a Salsa band and a Cuban menu; and the Spirit of the Caribbean delivers the island feel with Reggae and Calypso.
There will also be strolling entertainers, and mock casino gambling. At midnight – a Midnight Champagne Toast under a huge Midnight Balloon Drop.
You can still get a timeshare rental at the Wyndham Old Town Alexandria over the New Year for just $113/night. Or, try the Wyndham Vacation Resorts National Harbor and enjoy such holiday festivities as a Tea & Hot Cocoa Social, Holiday Cookie Decorating, and Gingerbread House Making, just to keep you busy before the Big Night.
(Photo credit – thingstododc.com)
Categorized in: holiday travel, New Year's Eve, rent a timeshare, Wyndham Old Town Alexandria, Wyndham Vacation Resorts National Harbor