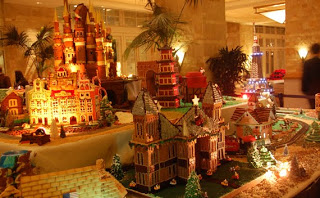 From Thanksgiving through New Year's Day, millions of Americans travel to celebrate the holidays with friends and families. With a timeshare rental being a natural choice for a spacious, homey vacation, the American Resort Development Association (ARDA) recently surveyed its members to discover what exciting holiday events their resorts were offering.
"Timeshare resorts across the country are rolling out the sleighs and cooking up the turkeys to help guests have fantastic, memorable holidays," writes ARDA.
Timeshare guests at Marriott's Canyon Villas at Desert Ridge in Phoenix are treated to a Candy Wonderland Gingerbread Village (see photo), set up in the grand lobby at the adjacent JW Marriott Desert Ridge Resort & Spa. This Christmas extravaganza features a Willy Wonka-esque fantasyland with a chocolate river, fudge room, chocolate eggs, and hidden golden tickets in addition to numerous hand-crafted gingerbread houses.
Created by World Pastry Champion Executive Pastry Chef Kaushik Chowdhury, the amazing gingerbread display features 500 pounds of gingerbread dough, 250 pounds each of dark, milk and white chocolate and 150 pounds of sugar.
On the other side of the country, Holiday Inn Club Vacations at Orange Lake Resort in Orlando caters to the vacationers wanting to escape winter and celebrate the holidays in a warmer climate. An oversized gingerbread house provides a great setting for family photos, and guests can order a full holiday meal – including turkey with all the trimmings – to eat in their comfortable, large in-unit dining areas.
"From our tree lighting ceremony on the day after Thanksgiving through our multiple New Years' parties we have a very active and fun holiday season for our guests," says Stacy Sutherland, vice president of corporate communications for Orange Lake Resorts, home to Holiday Inn Club Vacations.
"Spending Christmas in a special place with the ones you love not only provides fun times, it creates important memories," said Howard Nusbaum, ARDA president and CEO. "We encourage everyone to explore timeshare for their next holiday get-together."
Leave a comment below and tell us what's happening at your resort this holiday.
(Photo credit – fabulousarizona.com)
Categorized in: Holiday Inn Club Vacations at Orange Lake Resort, Marriott's Canyon Villas, timeshare rental, timeshare resorts