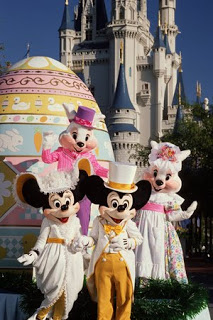 Disney is gearing up to celebrate Easter in a big way this year. Rent a timeshare and plan a very special family Easter vacation.
An Orlando timeshare rental will put you in the middle of these fun Easter activities at Walt Disney World:
At Walt Disney World's Magic Kingdom Park Mr. and Mrs. Easter Bunny will be out greeting guests during the entire week leading up to Easter. And on Easter Sunday, April 24, a parade is scheduled that features an Easter theme with Mr. and Mrs. Easter Bunny and Mickey and Minnie dressed in their Easter finest.
And be sure to meet the Main Street Poodle Society Ladies and the Mobile Azalea Trail Maids in Town Square on Easter Sunday. They also will stroll down Main Street with Mr. and Mrs. Bunny in the pre-parade show.
On Easter Sunday in Epcot there will be Easter egg hunts for children ages 3 to 9 every 20 minutes from 10 a.m. to 5:20 p.m. at Heritage Garden at the American Adventure Pavilion. Easter egg relays will also be held for children ages 6 – 12 at Future World West Garden every 40 minutes from 10:40 a.m. to 4:40 p.m. You might even find cupcake stations set up where kids can decorate a special Easter treat.
At Disney's Animal Kingdom the "Good Times Gathering Spot" returns to Camp Minnie-Mickey from 10 a.m. to 3 p.m. through out Easter week. You'll be able to meet Thumper and Miss Bunny, listen to Pocahontas tell stories, and even groove to a D.J. The Easter Bunny will greet guests at 2:30 p.m. Easter Sunday (April 24).
You will also have an opportunity to join Easter religious services at WDW on April 24th. Disney's Contemporary Resort will host a Protestant service (9 a.m.) and Catholic Masses (8 a.m. and 10:15 a.m.) in the Fantasia Ballroom on Easter Sunday.
Rent an Anaheim timeshare and enjoy a special Easter brunch or dinner at Disneyland.
Goofy's Kitchen Easter Dinner is where you'll be joined by Goofy and his Friends to celebrate Easter as only Goofy can arrange. All the regular buffet items will be available along with a few Easter surprises.
At the other end of the spectrum, enjoy a special Easter dinner menu at the elegant Napa Rose, the award-winning restaurant located in the Grand Californian. The seasonal menu offers unique fresh tastes such as Portobello mushroom bisque "Cappuccino," and strawberry sage barbeque duck breast. Reservations are required.
Easter celebrations are even found at the various Disney resorts. For example, rent a timeshare at Disney's Vero Beach Resort in Vero Beach, FL, where the popular Easter egg hunt will once again get underway at 7:00 am to 9:00 am Easter Sunday morning. An amazing Easter buffet will be offered at Shutters where you can enjoy chilled seafood, spring pea bisque, and a special holiday Beef Wellington.
The White Rabbit from "Alice in Wonderland" will greet guests at various times throughout the day in the resort lobby.
For Easter festivities your family will always remember, plan a Disney timeshare rental Easter vacation.
(Photo credit – disneyparks.disney.go.com)
Categorized in: Anaheim timeshare, Disney timeshare, Orlando timeshare rentals, timeshare rental