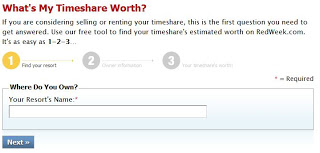 The biggest question asked by timeshare owners trying to sell their timeshare is, "What is my timeshare worth?" Even the Wall Street Journal posted an article this month – in 3 parts – by Richard Marquette on "How to Discover the Expected Resale Value of a Timeshare."
As with the sale of any real property the market drives the price, but who has time to pull sales comps and evaluate resale data? If you are one of the millions who don't, RedWeek.com has just the tool for you.
RedWeek.com, the largest online timeshare marketplace, has launched a free tool that gives owners concise information to help them estimate what their timeshare may be worth. This free tool gathers RedWeek.com resale data for any resort and shows owners the number of current resales posted, the median resale price, and the resale price range.
What could be simpler?
If resale prices aren't what you expected and you decide to hold off on selling, renting is an option that more and more owners are choosing. But the same question remains, "what is my timeshare worth?" The free RedWeek.com tool also provides rental data: number of current rental postings, median rental price, and the rental price range.
"We are constantly looking at new and inventive ways to make life easier for the many timeshare owners out there," said Maurice Aubrey, RedWeek president. "RedWeek.com is leading the industry in by-owner rentals and resales, and we feel our new estimator tool compliments those services."
Categorized in: redweek.com, timeshare rental, timeshare resales, what is my timeshare worth