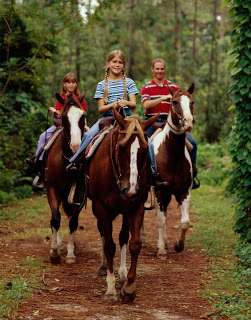 When is a theme park not a theme park? When Disney is involved, of course. Walt Disney World is arguably the most famous theme park in the world. But did you know that there's more to do at WDW than theme rides and more to see than theme characters? Rent an Orlando timeshare and really check this place out. Odds are you're in for a surprise.

Horseback riding

Sure you've ridden the prancing steads on the carousel, and have watched the horses flounce their beautiful manes and tails in the parades as they bear Cinderella's golden carriage along. If those have given you the itch to climb aboard your own horse, then head to Fort Wilderness. Here guided horseback rides (see photo) at the Tri-Circle-D Ranch take you through the idyllic setting of Disney's Fort Wilderness Resort & Campground. This area is also home to the majestic horses seen on Main Street in the Magic Kingdom Park. Now's your chance to see them up close and personal.
Water Sports

Fun for kids is the Wakeboarding, Kneeboarding, and Tubing, all available from Disney's Contemporary Resort Marina, as part of the Seven Seas Lagoon experience. You're pulled behind a speed boat driven by a professional instructor and driver. Recreational water skiing and parasailing are there for the more adventurous. Scuba diving lessons and surfing lessons are also available.
Fishing

Two- and four-hour bass fishing trips depart from several of WDW's marinas, including Fort Wilderness, Grand Floridian, and Caribbean Beach. You have your choice of daylight, or night fishing excursions. Didn't bring your rod and reel? No worries – Disney will outfit you with all the fishing equipment you'll need, including rod, reel, bait, shiners, and even a beverage for refreshments.
NASCAR Driving

Feeling the need for speed? Drive a race car, or ride shotgun with a professional driving instructor, at WDW's Speedway. Zooming along the mile-long tri-oval racetrack in a race car at blistering speeds will give you the thrill of a lifetime. You'll be experiencing just what it takes to compete in a NASCAR race as you reach speeds up to 140mph!
Golf

You'd just know that Disney would have its own PGA instructors, and a number of different golf courses, each offering a different level of expertise. For a family-friendly time out on the links, the 9-hole, Par 36, Oak Trail Golf Course near the Grand Floridian is just the ticket.

For you duffers who want a real challenge, see how you handle the Osprey Ridge Golf Course near Fort Wilderness. With its dramatic fairways running through live oak trees, pine and palmetto, you're in for a treat.
Besides the many great, and budget-friendly, Orlando timeshare rentals available, you can also find rentals at a number of the Disney resorts, including Wild Animal Kingdom, Disney's Beach Club Villas, and Disney's original Orlando resort, Disney's Saratoga Springs Resort and Spa. Take a look at the reviews of these and other timeshare rentals available for your WDW vacation.
(Photo credit – disneyworld.disney.go)

Categorized in: Disney's Animal Kingdom, Disney's Beach Club Villas, Disney's Saratoga Springs Resort, Orlando timeshare