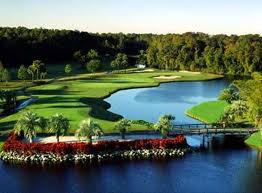 We're heading into fall, temperatures will soon be cooling, and it's a perfect time to plan a golf vacation. Rent an Orlando timeshare and have fun working on that handicap at, of all places, Walt Disney World.
The golf courses at Walt Disney World have long been favorites among guests, as well as members of the golfing industry. And now things are going to be even better. Disney has announced that it is pairing up with one of golf's biggest names of all time – Arnold Palmer. All five of the WDW golf courses will be managed by Arnold Palmer Golf Management, including operations, maintenance, and promotion, beginning September 25, 2011.
Arnold Palmer has designed golf courses literally from one end of the country to the other – Hawaii to Connecticut. The Palmer name is known for innovative course designs that are fun and challenging at the same time. "And when you blend that with WDW's already family-friendly environment and its rich golf heritage," said one WDW official, "what you'll get is a mixture that further enhances Disney Golf's stature as a unique golf destination experience that appeals to golfers of all levels."
Palmer states that he is "looking forward to the opportunity" to work with Disney, and plans to designate The Palm course as one of his signature courses with elements designed by him.
The WDW golf courses include:

The Magnolia

Features wide fairways dotted among an abundance of fragrant, blossoming magnolia trees. "It represents a paradise for serious golfers, as well as a thrilling challenge for players at all levels." This course has a 4-Star rating from Golf Digest.
The Palm (see photo)

"Golfers will appreciate the course design, which features shimmering lakes and tropical sands, all across a golf landscape that's dotted with strategically placed palm trees." This course has a 4-Star rating from Golf Digest.
Oak Trail

This is the perfect family-friendly golf course. "A charming 9-hole walking course set amidst a natural environment, it's designed by Ron Garl for families to enjoy together." The kids will especially enjoy the sight of deer and waterfowl that occasionally wander out of the surrounding woodlands.
Osprey Ridge

"Features dramatic golf holes that cut through stands of live oak, pine, palmetto, cypress and bay trees" making it suitable for serious golfers who seek a challenge. This course has received an impressive 4 ½ Star rating from Golf Digest.
Lake Buena Vista

"Experience the pleasures of a classic country-club course with a distinctive atmosphere. Tee off next to boats navigating scenic canals while taking in views of an enchanting lighthouse." This course is rated 4 Stars by Golf Digest.
Fall offers perfect weather in Orlando for all outdoor activities, including a day on the links. Rent an Orlando or Disney timeshare – and make it a budget-friendly golf vacation, too.
(Photo credit – disneyworld.disney.go.com)

Categorized in: Disney golf, Disney timeshare, golf vacation, Orlando timeshare, Walt Disney World