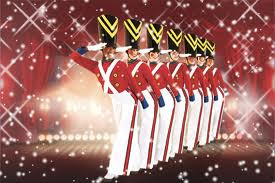 Radio City Music Hall has been wowing the Holidays with its Christmas Spectacular since the first version was presented on stage in 1933. Don't you think it's time that you treated the entire family to this traditional start to the Christmas Holiday Season? Rent a timeshare in mid-town Manhattan and make this a Christmas your family will never forget.
The 2011 show runs until January 2, 2012, and besides showcasing new scenes and songs, this show introduces a production number of a 3D live scene for the show titled "The Rockettes' Magical Journey."
The first show in 1933 consisted of an overture with the Radio City Symphony, a solo on the Mighty Wurlitzer Organ, a Toy Shop Ballet, The Rockettes' performance of "Parade of the Wooden Soldiers" choreographed by Rockettes founder Russell Markert, and a Living Nativity.
Originally the Hall was a lavish movie theater showing first-run major motion pictures to which it had exclusive rights, and the Christmas show was a 30-minute add-on. After 1979, due to a change in the way films were distributed, Radio City stopped showing movies, and transformed the Christmas show into a 90-minute spectacular, incorporating state-of-the-art technology.
Two of the original 1933 production numbers continue to this day. The Parade of the Wooden Soldiers is performed by the Rockettes wearing toy soldier costumes of the same design created in 1933 by famous Hollywood director Vincente Minelli. Each costume is made for the individual dancer.
The living Nativity continues in the show, but is updated with special effects and a pageant including live camels and sheep, along with the choral number "One Solitary Life."
This year, the 3D production number uses cutting-edge technology, allowing the audience to be part of an interactive experience, as the scenery extends beyond the stage onto the ceiling and walls transforming the interior of Radio City Music Hall into a massive magical canvas.
From Santa Claus and his reindeer to the Nativity celebrating Christ's birth, from favorite songs and classic carols to state-of-the-art special effects, the Radio City Music Hall Christmas Spectacular is guaranteed to dazzle, excite, and immerse everyone in the thrill of the Christmas holidays.
Check out budget-friendly New York City timeshare rentals that will put some holiday cheer in your wallet.
Photo Credit: radiocity.com
Categorized in: Christmas travel, Christmas vacation, New York City timeshare, Radio City Music Hall Christmas Spectacular, Santa Claus, The Rockettes' Magical Journey