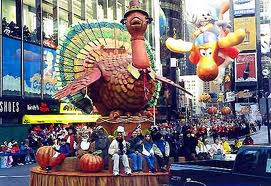 Don't look now, but Thanksgiving is just a week away. Besides eating turkey and watching football games on television, one of the most popular Thanksgiving Day activities is viewing the Macy's Thanksgiving Day Parade. This year's 85th anniversary of the parade will be marked with the appearance of some of the most beloved past-parade characters, including helium balloon versions of Kermit the Frog, Spiderman, and Snoopy.
Did you plan ahead and rent a New York City timeshare so your family can watch this iconic holiday parade live and in person? Here's some tips and info to make your parade experience fun and memorable.
1. Map out the Parade Route. Plan your strategy ahead of time – not only the best viewing spot for your family, but the best way to get there (think public transportation). The parade route is apparently going to change for 2012, but the 2011 route is the same as it's been for a few years.
2. Arrive Early. Many people arrive before 6:30 in the morning to stake out space. This can even be part of the adventure – sharing the excitement so early in the morning with other families just like yours, who start out as strangers and end up as friends.
3. Stay Warm. Be sure to dress warmly, and that includes hats and gloves. A few blankets would be a good idea, too. It's November in New York, and that means your odds of encountering winter weather are high. But wear layers in case the day warms up. Bringing thermoses of coffee and hot chocolate will make you a hit in the chilly pre-dawn.
If you prefer to watch the parade on the television in your timeshare rental rather than deal with the crowds, you can still get up close to the balloons by going to the Macy's Parade Balloon Inflation the day before.
From 3:00pm to 10:00pm on Wednesday, outside the American Museum of Natural History, your family will be able to watch the balloons fill with helium and take on the shapes that will float high above the crowds on Thanksgiving morning. Since the balloon inflation takes several hours people come and go all afternoon and evening, allowing you plenty of chances to get close to the action. Your children will also have the opportunity to meet and greet, and have their pictures taken with, many of their favorite characters, such as Dora the Explorer and Scooby-Doo.
If you've only seen the Macy's Thanksgiving Day Parade on television it's hard to get an idea of the gigantic size of the helium balloons. As you can see in this video, workers look miniscule standing next to a fully-inflated balloon.
Whether you'll be headed to NYC and the Macy's Thanksgiving Day Parade next week, or are thinking it sounds like a fun thing to do with your family next year, you'll find wonderful budget-friendly timeshare rentals right in mid-town Manhattan – the perfect location for a fun Thanksgiving family vacation.
Photo Credit: blog.mydot.com
Categorized in: Macy's Balloon Inflation, Macy's Thanksgiving Day Parade, New York City timeshare, Spiderman