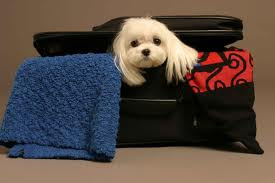 Many of you are planning on taking your pet with you as you head out for your Christmas timeshare vacation. If you'll be flying, here are some tips offered by Reuters:
1. Visit the Vet. Almost all domestic airlines (JetBlue and US Airways excepted) require veterinary vaccination certification and health documents, generally issued less than 30 days prior to the flight. And make sure you have a vet's name and number available at your destination.
2. Prepare the Kennel. Invest in a carrier that leaves your pet room to turn and stand up without hitting its head on the top of the carrier. The USDA has laid out universal must-haves: food and water dishes, "Live Animal" stickers, upright arrows, bedding and other necessities. And remember to include objects that the animal is familiar with, whether it's a favorite toy, blanket, or even a piece of your clothing (a soft t-shirt for example) with your scent on it.
3. Attach ID Tags. It's important to mark your pet – as well as the carrier – with proper ID tags. Attach to the kennel a note with your flight number, contact information and pet's name. Do the same on your pet's collar; remember that a reachable phone number is the most important detail. You might also want to consider a microchip.
4. Pack Food and Water. The dry air of an airline easily causes dehydration. The USDA requires that pets be offered food and water within four hours of checking in for a flight. Some airlines require a signature to show when your pet was last offered nourishment. Having said that, avoid giving any edibles to your pet within an hour of flight time.
5. Rehearse. Schedule trial runs before the big day of the flight. If you live in a city, take your pet for a ride on the subway or other modes of public transportation to familiarize it with both the movement and the crowds. Since the American Veterinary Medical Association frowns upon sedation – the combination of tranquilizers and high altitudes can prove fatal – it's best to travel with calm, drug-free pets.
There are a number of Pet-Friendly timeshare rentals available all around the globe.
Read Reuters' entire article for all ten tips.
Photo Credit: sapagreen.com
Categorized in: American Veterinary Medical Association, Christmas timeshare vacation, flying with pets, holiday timeshare vacation, pet-friendly timeshare rentals