There are many wonderful places to visit in
Florida
, but Orlando is by far the most family friendly place. My family and I have had some of the most memorable experiences visiting Orlando.  Here are some of our personal favorite places to visit in Orlando.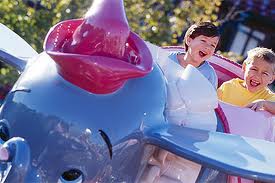 Magic Kingdom – Whatever you do in Orlando, don't miss the Magic Kingdom.  That's like going to New York and skipping out on the Statue of Liberty.  My family is full of 7 kids of all ages, and we all had fun riding the rides (especially Pirates of the Caribbean and Splash Mountain). And everyone in our family enjoyed the Wishes Nighttime Spectacular.  It is the biggest spectacular at Magic Kingdom, and includes a firework show like I've never seen before.
Epcot Center –The Epcot Center was probably our favorite place to visit as a family.  We don't often have the opportunity to travel internationally as a family, but walking around the Epcot Center gave us a taste of what it's like to be in 11 different countries all in one day. Each country in the park has fun bits of history, famous landmarks, and traditional garb from each country represented at the Epcot Center.
There is also an abundance of great international cuisine to try at the Epcot Center, so come with an empty stomach.  My family tried a lot of fun foreign food and we couldn't help but stop a few times at the French pastry shop.  The pastries were delicious and worth every calorie. Visiting the Epcot center was the perfect way to see which countries sparked our interest the most.  We eventually travelled to Asia as a family later, based on our interest from the Epcot Center.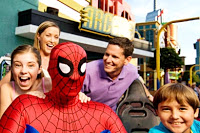 Universal Studios– Universal Studios is another place you won't want to miss.  We felt like we were taking part in our favorite shows as we visited Spiderman, the Hulk, the Mummy and the Harry Potter attractions.  Harry Potter is a family favorite of ours, so we were pretty thrilled about the fact that you can explore the halls of Hogwarts, see magical creatures, and that you can even get your own wand.   Whatever you do, don't miss out on Universal Studios.
NASA – Most places in Orlando celebrate creations of the imagination, but NASA is one place where you learn about spectacular events that are rooted in American history.  NASA is a great place to take the family to learn about various launchings of spacecraft's and landing on the moon. 
There are great museums and presentations that provide an education unmatched by any book.  After visiting NASA, one of my brothers went on to go to space camp, and is now majoring in Engineering with an Aerospace emphasis.  NASA is a great place to foster family education.
Orlando is the perfect place for a family vacation. You can spend weeks in Orlando and still find other fun places that will help you build wonderful memories with your family. And for a budget-friendly family vacation check out the many
Greater Orlando timeshare rentals
.
Our guest author, Ashley R. Cummings, is an avid
traveler and writer
.  She loves going new places and meeting new people.
Photo Credits: familyvacationcritic.com
Categorized in: budget-friendly family vacation, Epcot Center, family vacation, Greater Orlando timeshare rentals, Magic Kingdom, NASA, Orlando, timeshare vacation, Universal Orlando