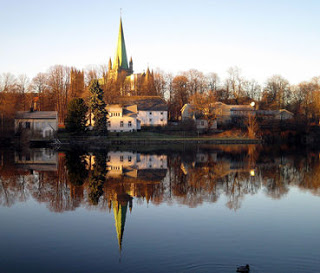 The Scandinavian country of Denmark is a collection of islands and a peninsula that borders Northern Germany. Zealand is Denmark's largest island and home to the country's capital of Copenhagen.
Bornholm is known as the holiday island and locally called the rock island and is home to the famous round house churches that date back to the crusades.
Both of these islands are popular with visitors but here are some things to make sure you see when traveling in Denmark during the autumn.
1. Copenhagen Autumn Jazz Festival. Visitors will be able to experience this festival in late October, which takes place in different locations around the city. Tickets to this festival are available in advance or on the day at various outlets and visitors will be able to enjoy classical jazz right through to modern jazz performed by both Danish and international performers. There are lots of other attractions happening in the streets during this festival and it is a great time to visit and be a part of the fun.
2. Night of Culture. A well guarded secret is Copenhagen's Night of Culture, which takes place for one night every October. Purchasing a ticket for this event will mean that you have free access to over 300 churches, galleries, museums, exhibitions, political buildings and much more. The great thing about this particular night is that many of these building are normally closed to the public, so you get to experience places that are definitely well off the beaten tourist track.
3. Ebel Festival. October also sees the town of Ebeltoft celebrating autumn. Denmark is famous for its apples and now grows over 300 different types and they are all celebrated at the Ebel Festival. Here you will get to sample cakes, cider, brandy and juice and will be able to purchase the products that are available. 
Autumn in Denmark is normally cooler but with plenty of sun, especially during September and October. No matter which part of Denmark you are visiting, you will find an abundance of parks and forests and autumn is the best time to do some hiking and explore these in detail.
The local tourist office will be able to provide you with maps so you can pick a hike that is suitable, then pack some lunch in a backpack (easy to make from your timeshare kitchen) and immerse yourselves in the amazing colours and scenery. You will also see much more wildlife during the autumn.
Stay in a timeshare exchange in Denmark, and check out the many Europe timeshare rentals, timeshare exchanges and timeshare resales also available.
Our guest author is Boris Dzhingarov, a graduate student from the University of National and World Economy. He is an experienced traveler and loves writing about the different destinations where he has visited. He recommends that you check out China and Kenya.
Top photo is of Hillerod, Denmark by tripideas.org
Categorized in: Copenhagen Autumn Jazz Festival, Copenhagen Night of Culture, Denmark timeshare exchanges, Ebel Festival, Ebeltoft, Europe timeshare rentals, Timeshare Exchange, timeshare resales