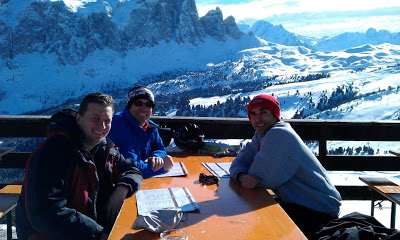 Dolomites, Italian Alps, submitted by Kurt H., Albuquerque, NM
The Dolomites are a part of the Alps in northeastern Italy. A tourist mecca, this area is known for its world-class skiing in winter, and mountain climbing, hiking, and hang-gliding in summer.
The "Maratona dles Dolomites", an annual single-day bicycle race through spectacular scenery that covers seven mountain passes of the Dolomites, occurs in the first week of July.
Take a look at timeshare rentals in Europe, as well as timeshare exchanges available in many European countries.
Submit your photo to #TravelTuesday! Just send it via email to us at: learnmore (at) redweek (dot) com. Let us know your name, where you are from, and where the photo was taken.
Categorized in: Dolomites, Italian Alps, Maratona dles Dolomites, skiing in Italy, timeshare exchanges, timeshare rentals, timeshare rentals in Europe, timeshare travel, traveltuesday