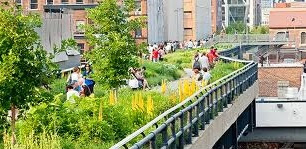 Summer is here and it's time for bikinis, beer, and best of all, travel. For some people summer means a break from school, and for others, it's an excuse for an extended timeshare vacation from work.
Regardless, it is the most highly anticipated season of the year. If you make your way to the Big Apple and are looking to find some things to do in NYC without breaking the bank, we've got the best itinerary for you
Chinatown. From bubble teas to bustling streets full of locals and tourists alike, shopping provides a unique experience for the budget traveler looking for things to do in Chinatown.
Fish and vegetable markets are scattered throughout the streets, full of mesmerizing Chinese architecture and gold signs in Hanzi characters. You'll find dozens of eateries here, as well as acupuncture centers and massage parlors.
High Line (see photo). Strolling along the High Line provides the adventurer an intimate experience with one of the world's most recognized parks.
Transformed into an urban park from an overgrown set of elevated railroad tracks, it has become a park that is famous for its artisan presence and breathtaking views. Food trucks surround the park, offering cheap alternatives to expensive sit down restaurants.
Grab some food and rest your legs at a bench, enjoy the majestic and natural beautiful of the various kinds of plants, flowers, and grasses in bloom.
SummerStage NYC.  This large concert series hosted by the City Parks Foundation that brings more than 100 performances to various parks across New York. The perfect place to enjoy a picnic ample with wine, beer, and food, the performances include artists of all genres.
The majority of the shows are free, with the exception of big concerts which tend to fall in the $50 range. 
Bars and Taverns. The bottomless brunch party at the Sunburnt Cow is a belly-busting opportunity to not only keep your budget in check, but to expand your waistline. This massive bar serves up some delicious moo-jitos and moo-tinis that will get you easily buzzed and amused by the preppy student, single, and young professional-filled environment.
Manned by hard-drinking Aussies, you're destined for a good time and a not so great hangover.
Keep your budget-friendly trip to New York City on track by staying in a timeshare rental in downtown Manhattan, for as little as $171/night. A huge savings over the city's hotels.
Our guest author, Daniel Hogan, is a writer at Party Earth – a global media and entertainment company that publishes reviews and listings of the best social experiences around the world including: things to do in Paris , clubs in London, beaches in Ibiza, plazas in Rome, bars in NYC, festivals and concerts everywhere, and more.
Photo Credit: liro.com
Categorized in: High Line Park, New York City, SummerStage NYC, Sunburnt Cow, timeshare rental, timeshare travel, timeshare vacation