Weeklong Luxury Resort Giveaway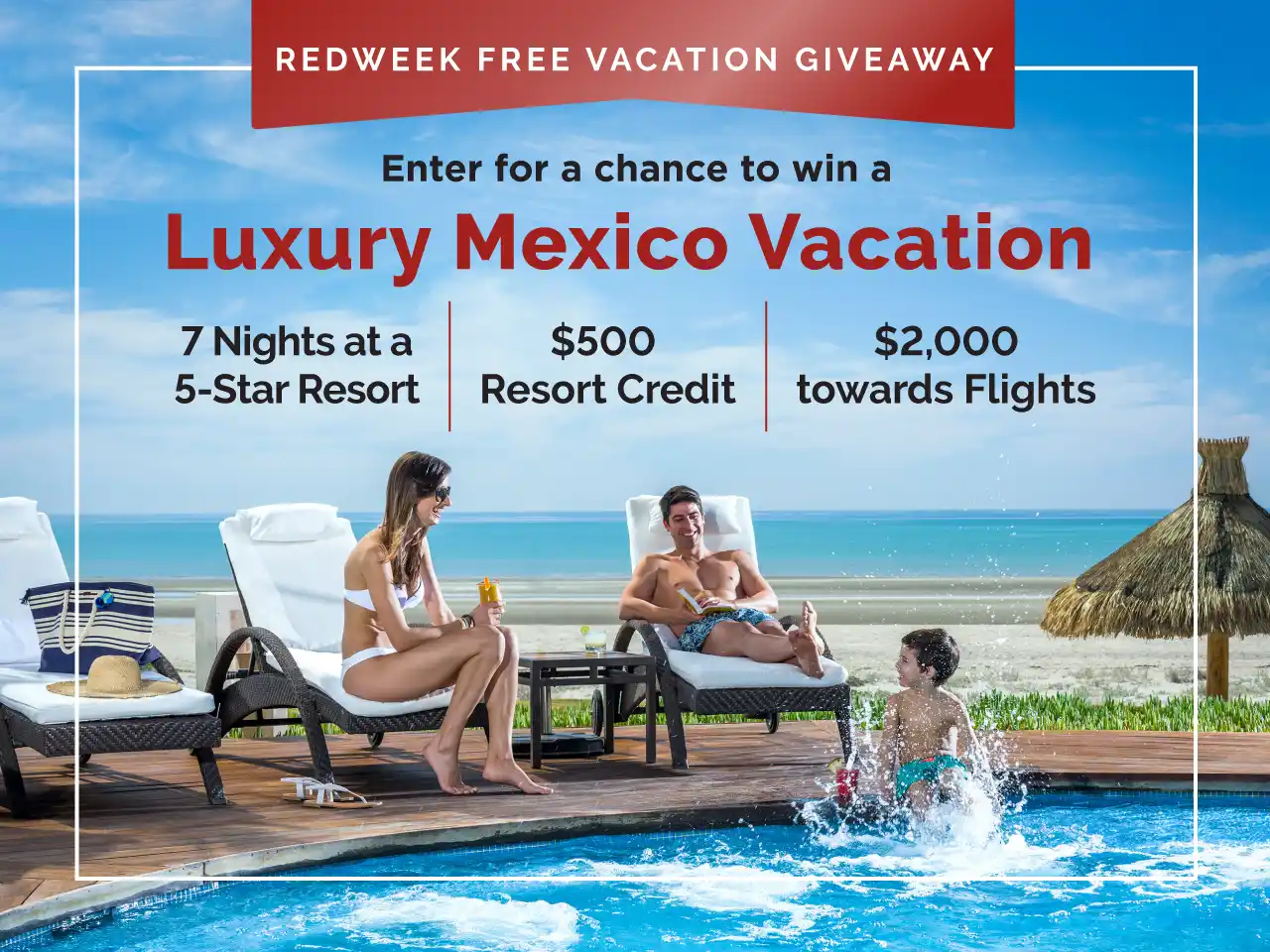 Thank you for your interest in this exclusive opportunity to experience the ultimate in luxury, 5-star dining, top-notch service, and unbelievable accommodations for up to 4 travelers!
The grand prize is valued at up to $4,999 USD and includes:
FREE RedWeek resort vacation in Mexico
Spacious accommodations for up to 4 travelers (2 adults + 2 children)
$2,000 to spend towards airfare
$500 Resort Credit to be used onsite at award-winning restaurants, spas & golf
It's easy to enter! Just complete the form below!
…and as a "thank you" for your interest in our vacation giveaway, you will be eligible to access a 7-night vacation to a luxury resort at significant savings just for entering and joining the RedWeek community. Be on the lookout for your welcome offer.
Giveaway closes on October 8, 2023 at 11:59 PM PDT. View the Terms & Conditions and enter below!
Any questions? Call a RedWeek specialist at 844-914-1498.
---
Submissions for this giveaway are now closed.
Thanks and best of luck to everyone that participated!
REDWEEK VACATION GIVEAWAY
Terms and Conditions
Eligibility: Offer only valid to participants who are active subscribers of RedWeek, Inc. ("RedWeek") Guests and RedWeek Members and reside in the United States and where not otherwise prohibited by law. Participants must be 21 years of age or older. No purchase is necessary. Any purchase will not improve chances to win.
How to Enter: Submit a completed entry form on the RedWeek Vacation Giveaway Entry page. Entries may also be accepted via mail by sending a request to participate in the Giveaway with your name, email address, and phone number to: RedWeek, Inc., Attn: Vacation Giveaway 15147 N. Scottsdale Rd., Suite 210, Scottsdale, AZ 85254. Only one entry per person will qualify.
The contest begins on September 11, 2023 and ends on October 8, 2023 at 11:59 PM PDT.
Winner Notification: The winners will be selected on a rolling weekly schedule, each Wednesday. The potential winner will be notified by the provided email, phone, postal mail, and/or express mail at RedWeek's sole discretion, within approximately three (3) weeks following the end of the applicable drawing.
Prize: The winner is entitled to one (1) Vidanta Resort Certificate ("Certificate") for up to two (2) adult and two (2) children travelers applicable for a seven (7) night or less stay at a select Vidanta Resort, $500 resort credit to use onsite and $2,000 Vacation cash to spend on airfare for up to 4 travelers, subject to all terms and conditions of the Certificate. Taxes, resort fees, and deposits are not included and must be paid by the winner. Must redeem the Certificate within one (1) year of issue date of the Certificate, otherwise Certificate expires. Certificate is not transferable.
General: A RedWeek account will be created with each entry if one doesn't already exist. Winner is responsible for all charges incurred in excess of this offer, including air/ground transportation, taxes, fees, resort fees, security deposits, personal expenses, additional spending. Taxes on prizes and all expenses related to acceptance and use of prizes are the sole responsibility of the applicable winner. By participating, entrants agree: [a] to these rules and decisions of RedWeek, which shall be final in all respects relating to this Giveaway; and [b] to release, discharge and hold harmless RedWeek, and its affiliates from any and all injuries, liability, losses and damages of any kind resulting from their participation in the Giveaway or their acceptance, use or misuse of prize including, without limitation, personal injury, death and property damage.
Telephonic Communications and Agreement to be Contacted: You acknowledge that telephone calls to or from us may be monitored and recorded and you agree to such monitoring and recording.
You verify that any contact information provided to us, including, but not limited to, your name, mailing address, email address, your residential telephone number, and/or your mobile telephone number, is true and accurate. You verify that you are the current subscriber or owner of any telephone number that you provide to us. Should any of your contact information change, including your telephone numbers, you agree to notify us before the change goes into effect. You agree to indemnify, defend and hold us harmless from and against any and all claims, losses, liability, costs and expenses (including reasonable attorneys' fees) arising from failure to update your contact information (including your telephone number), your voluntary provision of a telephone number that is not your own, and/or from your violation of any federal, state or local law, regulation or ordinance.
You acknowledge that by voluntarily providing your telephone number(s) to us, you expressly agree to receive recurring text messages and/or prerecorded voice messages or autodialed calls from us related to the RedWeek text program, offers, your account, any transaction with us, and/or your relationship with us. You also agree that we may obtain, and you expressly agree to be contacted at email addresses, mailing addresses and phone numbers provided by you directly. These telephone calls and text messages may include, for example, confirmation of reservation requests, changes to your reservations or account, and account collections and reminders. You agree to receive calls and text messages even if you cancel your account or terminate your relationship with us, except if you opt-out, as provided below. Consent to receive automated marketing calls/texts is not a condition of purchasing any goods or services. Calls or text messages to you may be made by or on behalf of us even if your telephone number is registered on any state or federal Do Not Call list. You acknowledge that you may incur a charge for these calls or text messages by your telephone carrier and that we are not responsible for these charges. The mobile carriers are not liable for delayed or undelivered messages. Msg & data rates may apply.
You may opt-out of automated calls or text messages at any time. To opt-out of text messages, reply STOP to any text message you receive. For help, text HELP. You acknowledge and agree that you may receive a text message confirming your opt-out. To opt-out of automated telephone calls (but not text messages), call 855-678-8731 or email optout@ourvacationcenter.com. Please allow up to thirty (30) days to process any opt-out request. Please note that if you opt out of automated calls, we reserve the right to make non-automated calls to you relating to your account, any transaction, account collections, or otherwise relating to your relationship with us. Your obligations under this Section shall survive termination of these Terms and Conditions.

Limit of Liability and Disclaimer: IN NO EVENT SHALL REDWEEK OR ITS RESPECTIVE AFFILIATES HAVE ANY LIABILITY FOR CONSEQUENTIAL DAMAGES, INCLUDING LOST PROFITS OR LOST GOODWILL, INDIRECT DAMAGES, SPECIAL DAMAGES, INCIDENTAL DAMAGES, MORAL DAMAGES, LIQUIDATED DAMAGES, PUNITIVE DAMAGES, EXEMPLARY DAMAGES OR ANY OTHER FORM OF DAMAGES ARISING OUT OF THIS AGREEMENT, EVEN IF ADVISED IN ADVANCE OF THE POSSIBILITY OF THESE TYPES OF DAMAGES, WHETHER SUCH DAMAGES ARE ALLEGED IN TORT, CONTRACT OR OTHERWISE. RedWeek makes no representations or warranties of any kind, express or implied, about the Award or any products and services provided by THIRD PARTIES, the operation of this Giveaway, our website, and/or the accuracy of any of the information, content or materials RedWeek provides You.
Privacy Policy: By entering the Giveaway, entrants agree and consent to RedWeek's collection, use and retention of their personal information provided in their entries for all purposes related to the Giveaway (including, without limitation, processing and administering entries, sharing an entrant's personal information with RedWeek's service providers, contractors, prizing partners, etc. as necessary to conduct and operate the Giveaway, communicating with and awarding prizes to winners, making public announcements about winners, and advertising, promoting and publicizing the Giveaway). Further, entrants agree to the RedWeek's Privacy Policy as posted on the program website here.
Governing Law: Except where prohibited, each participant hereby agrees by participating that any and all disputes, claims and causes of action arising out of, or connected with, the Giveaway or any prize awarded shall be resolved individually, without resort to any form of class action, and exclusively by the appropriate court located in the State of Arizona.
Disputes: Except where prohibited, all issues concerning the construction, validity, interpretation, and enforceability of these Official Giveaway Rules or the rights and obligations of the entrants, winners, and RedWeek in connection with this Giveaway shall be governed by, and construed in accordance with, the laws of State of Arizona, without giving effect to any choice of law or conflict of law rules (whether of the State of Arizona or any other jurisdiction), which would cause the application of the laws of any jurisdiction other than the State of Arizona.
Fulfillment: Arrivia, Inc. is fulfilling the Resort Stay on behalf or RedWeek for purposes of this Giveaway and Arrivia is located at 15147 N. Scottsdale Rd., Suite 210, Scottsdale, AZ 85254. Arrivia is a registered Seller of Travel in the following states: Florida #ST-29452, Washington UBI# 602 443 155 001 0001, Hawaii #TAR-5192 Hawaiian travel agency trust account named Client Trust Account #21-136301) and California #CST 2066521-50. Registration as a seller of travel does not constitute approval by the State of California. Arrivia is not a participant in the California Travel Consumer Restitution Fund. California requires certain Sellers of Travel to have a trust account or bond. Arrivia maintains a Consumer Funds Protection Bond issued by International Fidelity Insurance Company in the amount of $100,000.00.
×