If you're looking for a location that has it all… sunshine… skiing…. and whitewater rafting, let's talk Colorado. With an average of 300 sunny days a year, the sky-grabbing peaks of the Rocky Mountains beckon you to grab your skis, or, get some adventure at some of the world's most sought-after whitewater rafting rivers. Plus, talented local artisans, picture-perfect wildlife and horizon-wrapping sunsets also await you (and your camera), so, start planning that Colorado vacation now. Those who already have a week in a Colorado timeshare resort know what a great vacation it is year round. You'll want to check out these resorts for timeshare rentals, in the popular towns of Vail and Breckenridge.
Vail
Vail is an alpine village and a mountain rich with activity. In the summer you'll find an ocean of blue sky and dry 75 degree weather where you can hike, bike, raft, kayak, golf or shop, for days filled with fun. At night enjoy the ballet, symphony, and great chefs at top restaurants. In the winter, Vail mountain boasts three distinct areas, including three terrain parks, seven bowls and 5,289 acres of freeride terrain.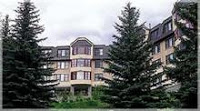 Stay at the Marriott's Streamside at Vail, a MVC International resort, that offers a variety of spacious villas. The Douglas and Evergreen buildings offer contemporary one- and two-bedroom accommodations. At the resort you'll enjoy the on-site recreation facility which includes an indoor/outdoor pool, whirlpool spas, a sauna and steam rooms as well as racquetball courts. They even offer organized activities. See other Vail timeshares.
Breckenridge
Breckenridge, located just 98 miles west of Denver, is a charming Victorian mining town filled with historical buildings dating back to the Gold Rush days. This bustling town prides itself with an inviting nature and your options go far beyond skiing and riding, (though the mountain boasts a total of 15 lifts and more than 100 ski trails). Enjoy a town event, like their 150th anniversary this year, or visit one of hundreds of restaurants, galleries, cafes and beyond. From shopping to nightlife and dining to culture, many options await you in Breckenridge.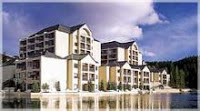 Marriott's Mountain Valley Lodge is located in the heart of town on Maggie Pond, overlooking the Quicksilver lift which serves 41 ski runs in the winter. The one bedroom units have plenty of space and you'll love the huge master bath with a Jacuzzi tub. There's a big kitchen with a large round table for everyone to gather. Restaurants, a day spa and a shopping mall are also nearby, as is the Breckenridge and the Raven Golf Clubs. See other Breckenridge timeshares.