Caribbean vacations are fun and relaxing. There is much to enjoy, see and do with the coconut-tree-clad mountains, valleys of sugar cane and banana fields, and beautiful seashores for boating and sunbathing. RedWeek.com has many Aruba timeshare resorts listed on the site for your rental, resale and exchange needs. Choose from the city of Oranjestad, often referred to simply as "Playa", which is Spanish for beach. It is the capital and most important city of Aruba located on the southern coast near the western end of the island and named after the first King Willem van Oranje-Nassau. Or, Palm Beach which stretches for seven miles and touts the world famous Fisherman's Huts that attract thousands of windsurfers some of the best sail boarding in the world.
Oranjestad, Aruba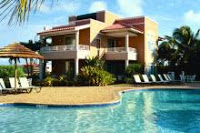 Visit the Divi Village Golf and Beach Resort just steps from Aruba's white sand beaches and sheltered in a tropically landscaped garden. This deluxe resort offers beach, golf, gourmet restaurants and nearby casino gambling for your entertainment pleasure. Centered on a large, sparkling freshwater pool, with views of their private beach, you'll love the amenities and relaxation you'll find. The resort has one hundred sixty two spacious studios, one, and two-bedroom suites with fully equipped kitchens and private balconies.
Palm Beach, Aruba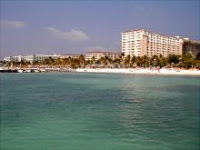 Marriott's Aruba Surf Club sits beachfront on the Caribbean and offers an outdoor swimming pool, health club and 10,700 square foot casino. The resort features spacious villas designed with your comfort in mind. Each villa has high-quality accommodations: spacious living and dining areas, full kitchens, multiple TV sets, VCR, and daily maid service (upon request). You will experience a relaxing escape in a beautiful resort atmosphere. Guests will also have access to services at the Mandara Spa facility.