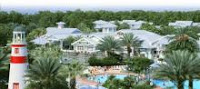 Ready to take a step back in time? Walk among the turn-of-the-century styling's at Disney's Old Key West Resort, located in the heart of Walt Disney World in Lake Buena Vista, Florida. These residential-style timeshare units are very large, which is great for family travel, and offer fantastic amenities to visitors. Rooms face either the waterways, woodlands, or fairways for a lovely view all around the property.
Here's what a RedWeek.com member had to say about Disney's Old Key West Resort:
"The grounds are spectacular and the lakes winding thru the place are so beautiful. It seems everywhere you turn there is "natural" beauty or is it Disney magic. The studios are one of the few places in the Disney timeshares where you actually have 2 double beds instead of a queen bed and sofabed. The rooms actually look more like a hotel room with an efficiency kitchen of microwave and fridge. Don't hesitate to stay here if you want value for your dollar in Disney proper."
Old Key West can be fully booked and it still never feels crowded with the vast space of their scenic property. If you spend the day just enjoying the resort itself, there's plenty to do: with four heated pools plus a kiddie pool for swimming, work out facilities at the R.E.S.T Beach Recreation Department, boat rental to cruise the lake, or golf at Disney's Lake Buena Vista Golf Club.
Take advantage of the free bus and boat services at the resort to visit the Disney theme parks, water parks, and more local attractions. Down home dining and family-style meals are served up hot at Olivia's Cafe, or if you just want to get something fast, try Good's Food To Go. Barbecue grills can also be found throughout the resort for those who want to save money and do their own cooking.
See other Disney timeshares.
See Florida timeshares.