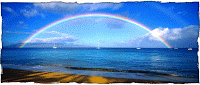 Everyone loves Hawaii. Beautiful tropical scenery, stunning beaches, killer surf… but most tourists end up visiting the island of Oahu. This year, it's time for a trip to Maui. Maui has great year round events and activities, in addition to the sun, sand and surf. On the island of Maui, you'll find timeshare rentals on Kihai (in the South), and Lahaina (in the West). Here's more detail about each city so you can plan your vacation in Maui this year.
Lahaina, West Maui
Often referred to as the "Crown Jewel of Maui," Lahaina was once the capital city of Maui, home of the Kamehameha dynasty in the early 19th century. Today, Lahaina has nearly 50 acres of historic districts, and National Landmarks. Celebrations abound, from welcoming of the humpback whales to "Friday Night is Art Night," the King Kamehameha Day Parade, the Ocean Arts Festival, the International Festival of Canoes, the Taste of Lahaina Food Festival and the annual Halloween celebration (like Hawaiian Mardi Gras). Golfers will love the championship courses and outdoor adventure enthusiasts, will want to visit the Kapalua Adventures Mountain Outpost that provides challenges such as tower climbing, and ziplines to sail through the sky.
Front Street is the heart of the town, where you'll find a colorful assortment of gift shops, retail stores, art galleries, and award-winning restaurants. The 60 foot tall Banyan Tree stands at one end of the street and stretches out hundreds of feet wide. It was planted in 1873 to honor Lahaina's traveling missionaries. Around its massive trunks beneath the branches you'll find some of West Maui's most talented artisans, who display their artwork and entertain visitors daily. Lahaina is also the home of two of the islands most popular luaus, the Old Lahaina Luau and the Feast at Lele. Each offers visitors a traditional Hawaiian feast, with food, music, chants, and hula dancing. Visitors can also find live entertainment at the Maui Theater which features a live music performance depicting the history of the Hawaiian Islands.
A short distance away, the breathtaking ocean vistas and lush gardens of Kaanapali welcome guests to a spectacular three-mile stretch of golden sand which has been voted "Best Beach on Maui" by a number of travel Websites.
After your visit to West Maui, it becomes clear as to why the royal families of Hawaii once considered the area to be a rare and beautiful jewel, fit for kings and queens.
See Lahaina Hawaii timeshare rentals.
Kihai, South Maui
The ancient Hawaiians were drawn to South Maui's sparkling white beaches, crystal-clear waters and vibrant, sunsets which continue to attract visitors today. With its dry, sunny climate you'll find an endless supply of things to see, do and taste. The beach town of Kihei offers the bulk of South Maui's shops, restaurants and attractions. The numerous picturesque beaches vary greatly. One may be ideal for surfing, whereas another is best for snorkeling with the kids. Often times the parks and beaches are filled with craft fairs, live music and events. For those visiting from November to April, you'll find a fantastic beach front view of the humpback whales on their annual migration.
Visit Wailea to see nearly two miles of gently sloping terrain and rugged shoreline. While you're there, you'll encounter upscale retail shops, boutiques, art galleries and award-winning restaurants. Native Hawaiian cultural programs, guided nature tours, marine education workshops and children's programs are also available for travelers who have already enjoyed the golf courses, tennis courts and day spas. After dark, Wailea comes alive with musical performances, dancing and traditional Hawaiian luaus.
The nearby Makena Landing is popular for diving, snorkeling and the rare opportunity to be up close and personal with sea turtles and indigenous fishes. And a trip to Makena would be incomplete without a stop at Big Beach, which lives up to its name, stretching more than 3,000-feet long and 100-feet wide. Visitors should note that this area, although beautiful, has a high and unpredictable surf.
See Kihai Hawaii timeshare rentals.
See all Hawaii timeshares.
(Photo provided by visitmaui.com)