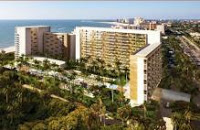 Marriott Crystal Shores, an upscale, oceanfront timeshare resort on Marco Island, Florida is still is operating as usual, though they have temporarily suspended their sales and marketing efforts of the timeshare units. As many as 36 employees in sales and marketing were thought to have lost their jobs. Marriott Crystal Shores has cited that the status of the economy is what lead to the impact of retail sales efforts. The property just opened for guests and timeshare owners in March 2009.
"The property is fantastic and a lot of owners and visitors are there now enjoying it," said Edward Kinney, Vice President of Corporate Affairs and Brand Awareness for Marriott Vacation Club International. "Our management and associates at this beachfront resort will continue to deliver the vacation experiences our owners and guests have come to expect from Marriott Vacation Club."
The economy is not slowing expansion plans, though. The resort currently has 71 villas and will have 219 when complete, including some larger three-bedroom penthouse suites. The timeshare resort is perfect for the traveler who wants the same luxury found at other Marco Island beachfront properties, but who also wants more space. Crystal Shores timeshare ownership really appeals to those considering buying a second home and with a timeshare, travelers get a completely different vacation experience filled with resort amenities. Scheduled for completion in 2015, the 20-foot-wide beach access for the resort will include a foot shower area for the comfort of their guests.