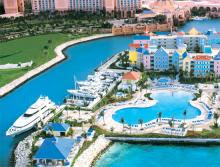 Every year at RedWeek.com we assemble a list of the Top 25 timeshare rental resorts, as voted by our members. This year the Harborside Resort at Atlantis was number four.
Located on Paradise Island in the Bahamas, Caribbean, this resort provides a wealth of amenities and pleasures, just steps from the villas, for all ages. Surrounded by one of the prettiest barrier reefs in the world, the Bahamas encompass approximately 700 islands and 2,000 cays. Many alluring and adventurous options exist here for the vacation traveler, including the world's largest marine habitat, horse and buggy rides, a Mayan Temple waterslide, a Ferry ride to Nassau, and casino gambling. Guests will also enjoy international cuisine, exceptional shopping, great facilities for sports, as well as relaxing salon and spa services.
The resort offers one-, two-, and three-bedroom villas, which are all brightly decorated, and include all the amenities and comforts of home. Each villa includes a fully-equipped kitchen with a full size refrigerator, stove top and microwave/convection oven. Rooms also include and entertainment center with a VCR. If you need to connect to the outside world on your vacation, there is a business center with copying, fax, and Internet services available for guests. Be sure to take advantage of the free shuttle services which offer guests a convenient to navigate this enormous resort.