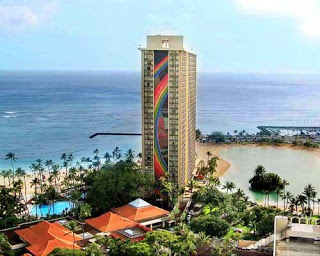 Looking again at our list of the Top 25 timeshare rental resorts, as voted by our members on RedWeek.com, this year the Hilton Grand Vacation Club (HGVC) at Hilton Hawaiian Village was ranked at number five.
Set on the soft sand beach of Waikiki, Hilton Hawaiian Village is a destination unto itself. This resort rests on 22 acres of prime Oahu beachscape, and offers guests cozy studios and spacious one-, two-, and three-bedroom timeshare villas. Amenities include three swimming pools, a whirlpool spa, The Mandara Spa and Holistica Hawaii Health Centers, a barber shop, beauty salon, restaurants, lounges and even supervised recreation programs. There's really something for everyone, right at the resort itself. Plus, each villa has a full kitchen and air conditioning. Guests will find a washer and dryer on each floor for their convenience.
Once you do venture out from the resort itself, you'll be presented with vast ocean activities such as: swimming, scuba diving and snorkeling. You might even try a submarine ride, which offers unsurpassed views of Hawaii's vibrant undersea world. To experience Hawaii by air, check out the Island Seaplane Service, the only air tour in all of Hawaii. Their service offers three booking options: the half-hour Aloha Flight, the one-hour Islander Flight, and the Dinner and Flight which includes a gourmet catered meal.
See other Hawaii timeshares.