When planning your next timeshare vacation, why not choose a destination that offers golfing! A full week of playing golf would be a very relaxing way to spend your vacation. There are numerous timeshare resorts across the country that have golf courses close by or right next to the resort property. You're sure to find several that are suitable for your golfing skill level so you can try a different course every day! Here's a few suggestions to get you thinking about long drives, walking the greens, and perfectly placed putt on the back nine: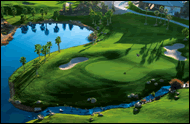 Las Vegas
Las Vegas, Nevada, offers more than 60 golf courses for every skill level. The Desert Pines is located less than 10 minutes from downtown, providing players of all abilities the opportunity to use every club in their bag! Or, try Rhodes Ranch with a multitude of water features, varying elevations, stunning city views and gently rolling fairways spread out over 162 acres (see photo). See Las Vegas timeshares.
Arizona
Golf opportunities are endless in Arizona. Play a round of championship golf in the stunning Sedona Golf Resort. Winding around the famed red rocks is an unforgettable and unique golf experience. Four stars says Golf Digest. The Wildfire Golf Club is also a great choice, especially if you plan to stay at the Marriott's Canyon Villas at Desert Ridge close by. Situated in the rugged Sonoran Desert of Northeast Phoenix, this course features two picturesque 18-hole courses designed by golf legends Arnold Palmer and Nick Faldo. See Arizona timeshares.
Orlando
Orlando, Florida boasts to have over 160 golf courses available for the avid golfer. Seasoned golfers can test their skill at the 18-hole Grande Pines Golf Club, designed by Steve Smyers and named one of "America's Best Resort Courses" by Golfweek. Disney's Osprey Ridge has been recognized as one of the best courses in Florida by "Golf Digest's Places to Play", featuring dramatic fairways cutting through stands of oak, pine, palmetto, cypress and bay trees. See Orlando timeshares.
Use this quick link to see all Golf Timeshare Vacation destinations.
(Photo of Rhodes Ranch provided by lasvegasgolfcourses.com)