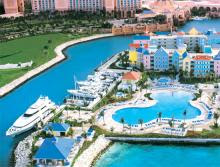 Looking for a tropical destination this winter? Want to be warm with your toes in the sand instead of wrapped in wool sweaters and scarves? Try the Harborside Resort at Atlantis on Paradise Island in the Bahamas, Caribbean. The holidays are a great time to visit the Harborside Resort at Atlantis. Many RedWeek.com members have spotted movie stars on their boats, like Jessica Alba and James Gandolfini (Tony from the Sopranos.)
In addition to rubbing elbows with the stars, you can visit the 14-acre Atlantis Marine Habitat, the world's largest aquatic park. The Dig, an 11,000-year-old lost continent, provides a unique excursion into a wondrous civilization that is now home to some of the world's most exotic sea creatures. Swim with Atlantic Bottlenose dolphins or play with Sea Lions in the Dolphin Cay, snorkel with Manta Rays in the Ruins Lagoon or walk with sharks in the Predator Lagoon. Explore the crystal blue waters of the Caribbean with snorkel and scuba reef excursions. You can even become a marine mammal Trainer-for-a-Day.
Guests of Atlantis can also enjoy invigorating play and spectacular ocean views at the Ocean Club Golf Course, with sophisticated nuances that challenge golfers of every skill, and stretching over 7,100 yards.
Climber's Rush is a unique, state of the art facility that offers 12 climbing surfaces and a variety of options including: a one time climb, an hour of instruction, or group clinics with a focus on teamwork and communication (great for family bonding).
Aquaventure, is a thrilling 141-acre water park that is complimentary for all guests staying at Atlantis. Featuring over twenty million gallons of water, this non-stop "aqua" adventure offers incredible Atlantean-themed towers with multiple high-speed water slides, a mile-long river ride with rolling rapids and waves, a spectacular kids water-play fort and 11 unique and refreshing pools.
And, that's just the tip of the iceberg. There's so much to do at Harborside Resort at Atlantis, we can't list it all in this one article. You'll want to come back every year and experience what you missed, as well as do it all over again! If you've been to the Harborside Resort at Atlantis, tell us your favorite activity by leaving a comment below.
See Harborside Resort at Atlantis timeshare rentals.
See Harborside Resort at Atlantis timeshare resales.