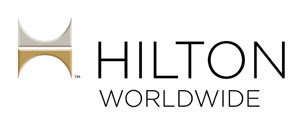 Hilton Hotels Corporation has changed its name to Hilton Worldwide, and with the name comes a new corporate image and logo. In an effort to reflect Hilton's heritage, quality, and commitment to excellence in service, their goal is to also show how the company reaches people on a global level and this change represents how they are growing internationally.
"Our new identity is reflective of a refreshed company vision, mission, values and key strategic priorities, and in some ways signifies that this is a new beginning for our company," President and CEO Chris Nassetta says. "While our corporate name and logo have changed, the best of our company – the passion, commitment and high standards of our team members that translate into exceptional experiences for our guests – remains the same."
The new logo, with a platinum and gold stylized H evokes quality, stature and the richness of Hilton's heritage. The two halves are reflective to represent their storied past and vibrant future. The open curves have several meanings, suggesting the rounded edges of a globe, the arch of a bridge and posts of a bed.
The company also recently relocated its global headquarters from Beverly Hills, California, to McLean, Virginia. Hilton Worldwide's portfolio of 10 brands comprises more than 3,300 hotels in 77 countries around the world, including the Hilton Grand Vacations Club Timeshare Resorts (HGVC).
See all HGVC timeshare resorts.