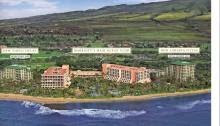 Think that a Hawaiian vacation is just too expensive? Think again! Budget-friendly family vacations can be had at the Marriott Maui Ocean Club timeshare resorts. Located in Lahaina, the Ocean Club has three phases right on the beach with sand and snorkeling available practically out your front door.
The name "Lahaina" means "merciless sun" in the Hawaiian language. All that this means to a visitor is that they will be enjoying a sun-drenched tropical climate. Lahaina averages only 13 inches of rain annually, usually in December and January, and if you happen to find yourself in rain here you'll soon discover how soft and almost musical a tropical rain can be.
Over two centuries ago, before the islands were unified, Lahaina was a bustling whaling town. After island unification, Lahaina was the "Royal Capital of the Hawaiian Kingdom" from 1820 to 1845. King Kamehameha III preferred this quiet village to busy Honolulu, and built a palace getaway on a one-acre island in a fishpond near the center of town.
A spectacular banyan tree in Courthouse Square was planted in 1873. With twelve major trunks it now spans an incredible two-thirds of an acre. Front Street was built in 1820 and today is the main area in Lahaina for shops, restaurants, and entertainment and is the center for nightlife in west Maui. With over 60 shops Whaler's Village is the only oceanfront shopping area on Maui. It also includes the popular Whalers Village Museum, an enjoyable and educational exhibit on whales.
Timeshare rentals at Marriott's Maui Ocean Club start as low as $113/night. Each unit has a kitchenette with a microwave and a small refrigerator. Marriott's Maui Ocean Club Lahaina Villas timeshares offer full-sized, fully-equipped kitchens, in-room washer/dryers, and upscale furnishings starting at just $145/night. The new Napili Villas at Marriott's Maui Ocean Club feature top-of-the-line lock-off, two-, and three-bedroom timeshare accommodations, upscale furnishings, and beautiful ocean or mountain views, from $143/night. All the resorts offer grills for barbecuing, children's pools, swimming and tennis.
See RedWeek.com for complete reviews and resort details.