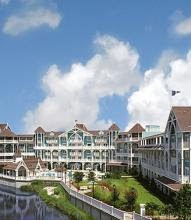 A sun-splashed beach vacation and Christmas at the same time? Why not! Rent a timeshare at Disney's Beach Club Villas in Lake Buena Vista, Florida, and you're just steps away from an unforgettable Christmas holiday celebration at Disney's Epcot.
The Disney's Beach Club Villas are decorated in the pastel colors and wood accents of beach architecture typical of the eastern seaboard, and range from a studio size, which has a kitchenette (includes microwave and small refrigerator) to 1 and 2-bedroom units that include a fully-equipped, full-size kitchen, and in-room washers and dryers.
All guests have full access to the amenities of the resort. These include Stormalong Bay, a massive 3-acre water park with exciting water slides and delightful sand bottom swimming pools, and restful pontoon boating at Bayside Marina. For more relaxation soak up the sun out on the beautiful white sand beach, or even enjoy some lazy fishing.
Epcot is within easy walking distance of the Villas. From November 27, 2009 through December 30, 2009 Epcot presents "Holidays Around the World." You and your family will thrill to experience the holidays at the pavilions of 11 different nations as if you had actually traveled to those countries for Christmas.
Your children will be thrilled to share cookies and cocoa with Santa Claus and Mrs. Claus at American Adventure. And then they'll also get to meet "Santa Claus" in his other international forms, such as England's Father Christmas, France's Pere Noel and Italy's La Befana.
The most popular holiday presentation at Epcot is the Candlelight Processional. Held at the outdoor America Gardens Theater at three different times each evening, this is a spectacular musical performance of the Christmas Story. Backed by a mass choir and a 50-piece orchestra celebrity narrators retell the story of Christmas. This is a serious and moving experience so your children will see no Disney Characters included in the performance, but most children are enthralled with the pageantry.
Just a reminder, evenings in Florida during November and December can be cool, so be sure to bring warm clothes and jackets if you plan to attend the outdoor Candlelight Processional performance. Learn more about Disney's Beach Club Villas. See all Orlando timeshare resorts.