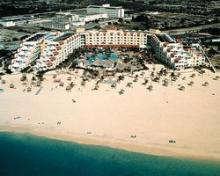 Aruba has the well-deserved reputation of being one of the top Caribbean destinations. Take the family or share with a group of friends and rent a timeshare at the Costa Linda Beach Resort for the treat of a lifetime.
The Costa Linda Beach Resort is centrally located along the southwest coast of Aruba. You can rent timeshares there that sleep up to 8. The units are kept immaculate by maid service six days a week. Not only will your maid make your beds, but she'll do your dishes, too! All of this while you're enjoying one of the most stunning beaches in all of the Caribbean. The sand in front of this resort is white and powdery soft, and the brilliant jeweled turquoise water is a feast for the eyes.
Aruba, an island in the Lesser Antilles, was settled by the Dutch and is part of the Kingdom of the Netherlands. Amazingly it lies outside the hurricane belt. Aruba's capital city and the largest town on the island is Oranjestad. Here, amidst beautiful Dutch ornamental architecture in glowing pastel colors, is the primary shopping center on the island. Since your timeshare has a kitchen head down to the wharf and take advantage of the fresh fish that is sold right off the boats every morning.
The Arikok National Park is a natural preserve which covers 25% of the island and showcases Aruba's unique arid landscape. Along the hiking trails you'll see Aruba's amazing variety of plants and animals, including the wind-sculpted divi-divi trees, beautiful tropical flowers, brightly colored birds and even iguanas.
A fascinating site to visit on Aruba is the California Lighthouse. It's named after the famous ship that received the distress signals from the sinking Titanic. The Californian met its fate when it sank off the shores of Aruba, and the wreck near the lighthouse is a favorite dive site. Also near by is the California Sand Dunes, a popular place with the kids for dune "surfing!"
Don't miss the celebrated Natural Pool on the windward side of the island. Surrounded by rugged terrain this hidden pool of ocean water is a favorite for swimming, snorkeling and scuba diving. However, getting there can be extremely arduous and although it is possible to hike in (only if you are in very good shape), it is suggested that a professional jeep tour company is the best means of reaching the pool safely.
You can rent a timeshare at the Costa Linda Beach Resort for a little as $128/night. What a budget-friendly opportunity to experience Aruba, the jewel of the Caribbean! See all Aruba timeshare resorts for rent.