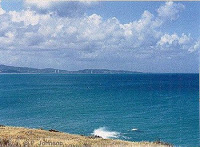 If you want everything in one beautiful Caribbean package, visit Puerto Rico. Splashed down in crystal blue waters, Puerto Rico is composed of an archipelago that includes the main island of Puerto Rico and a number of smaller islands.
Rent a timeshare and spend a happy family vacation with all there is to do and see in Puerto Rico. This tropical volcano island has a myriad of natural activities to please every member of the family. Enjoy everything from rock climbing to cave exploring, from leisurely walks along white sand beaches to serious hiking through dense rain forests.
Snorkeling and scuba diving range from a shallow reef teeming with tropical fish at Angel Reef, to the exciting dive area of Black Wall "a sheer wall draped in black coral trees" that begins at 60 ft and drops to 200 ft.
Puerto Rico is known as the "Golf Capital of the Caribbean," and sports an amazing 23 golf courses, so no matter what your handicap you'll enjoy a day on the links. At night Puerto Ricans know how to party and the night life will have you literally dancing as you learn about Puerto Rico's amazing native music that showcases its Spanish, African and Taino Indian heritage. If you're looking for night life that's a little slower than the beat of the Salsa, try a midnight boat ride on the dazzling bioluminescent bay at Parguera.
Since Puerto Rico is a self-governing territory of the United States, Puerto Ricans are U.S. citizens, the currency is the American dollar, English is one of the two official languages, U.S. citizens do not need a passport to visit, and there are no customs duties on articles bought in Puerto Rico and taken to the U.S. mainland. All of this makes Puerto Rico a very easy vacation destination for Americans. So, don't wait! Rent a Puerto Rico timeshare for your next vacation!