Article written by guest blogger: John Locher, VP of Marketing for RedWeek.com (Part 1 of 2)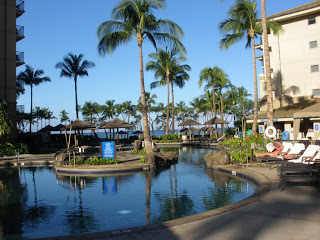 My favorite Hawaiian island used to be Kauai, before this trip. When I left my Seattle area home at 6AM it was 19 degrees. When I landed on Maui it had just rained and was 75 degrees. Even with a little drizzle I put the top down on my rental convertible and I was in heaven. There is a vibe for me on Maui that resonates in many ways. First is the weather, then the Jawaiian music (Reggae with island flavor), add in the kick-back island style and of course the ocean and how could you not have a great vacation. But, this trip for me was primarily for business. In less than 20 minutes from the airport on the ocean road to Lahaina it was a clear, sunny and 80 degrees. Perfect weather that remained for the next 4 days of my stay.
My timeshare unit was at the wonderful Westin Kaanapali Ocean Resort Villas. When you drive up there are two resorts, the first one is the "North" building. RedWeek.com offers timeshare rentals and timeshare resales at both the main building and the Westin Kaanapali Ocean Resort Villas North where I stayed. This building just opened up in 2007.
Like so many properties in Hawaii the building opens up wide to the outside and faces the ocean. The main lobby overlooks a koi pond, 2 pools and finally the palm tree guarded beach. It is a grand entrance. Just standing there makes you forget anything else that may be on your mind.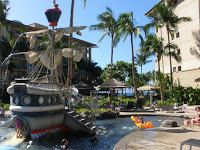 When you visit the "North" building lobby you'll find some separate amenities such as the spa, the Westin workout and a few different bars and restaurants but the resort property is really just one large facility and you are welcome to stroll between buildings. The North resort area also features a very unique pool with a pirate ship and slide for kids, right next to the Kids Club.
The spacious rooms are the best in Westin luxury. The kitchens are large with marble topped counters. The dishwasher, fridge, washer/dryer and cookware were all high-quality and like-new. The bathroom had a separate glass enclosure for shower and toilet and a separate Jacuzzi tub with folding opaque glass windows opening to the bedroom. My timeshare rental unit was a one bedroom. There were two flat screens TV, DVD players and a music system. The place was furnished perfectly and I had a vast amount of space. There were two sliding glass doors, one from the living room and one from the bedroom that opened onto the patio. The pool was 20 feet away and the beach another 30 footsteps beyond that.
The location, unit, service and resort amenities were all you would ever need on any vacation. In fact, I didn't have nearly enough time to enjoy all of the recreation, restaurants and services the resort itself had to offer. That is a challenge when one is doing business on Maui or just on vacation. You need a lot of time to lay back and take it all in.
See part 2 of this article to learn about Maui Timeshare Zipping at the Westin Kaanapali Ocean Resort Villas.