Article written by guest blogger: John Locher, VP of Marketing for RedWeek.com (Part 2 of 2)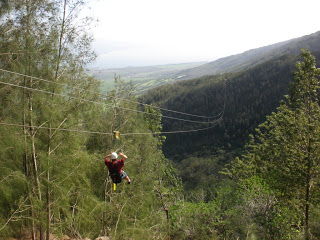 As I mentioned in my last article, before this trip, Kauai was my favorite Hawaiian island, but, after my stay at the Westin Kaanapali Ocean Resort Villas on Maui I have another favorite to add to the list. The island and this resort was nothing short of wonderful. The one bedroom unit I stayed in was quite spacious and the timeshare resort itself had so many amenities and recreational services that I didn't have nearly enough time to enjoy them all in the 4 days I was there.
One thing I did make time for was the Flyin Hawaiian Zipline. This thrill seeker activity has 8 separate lines that you do consecutively and it takes about 4 hours to complete the entire journey. Their tour contains nearly 2.5 miles of zipline and brags to have the longest AND second longest of any zipline available in Hawaii. One is over 3200 feet!
But, don't think that you just get a ticket and go! They train you, provide protective gear and make sure you are securely harnessed. In addition to flying over tree tops, there are some very short steep hikes between the platforms to each line. The view on top of the mountain is breathtaking as you overlook the Maui coastline, including the area known as "Jaws" where the tumultuous surf is often at record heights.
One question we all had of our guide was, "how do I stop myself on this cable once I'm at the bottom?" Well you soon find out that you have to be prepared before hitting their custom braking system or the jolts will stay with you for a few days. Their guides are coaching you all the way and giving signals for when to get in the stooping position. They realize that you are taking in the scenery and getting caught up in the rush of speed, so they are there to help. After a few runs you easily get the hang of it.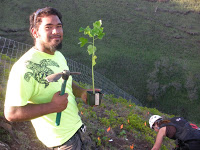 If you decide to take one of their tours, I encourage you to read about their "eco" friendly posture and dedication to protecting the mountain. We even planted some endangered flowers during our journey. I really enjoyed naming and planting my own flower on the mountain side we had just zipped over.
So, at the end of this trip, I now have two favorite islands in Hawaii; Kauai and Maui. If your plans take you to Kauai, check out the timeshare rentals at the Westin Princeville Ocean Resort Villas. But, if you want to have the best zipline adventure I highly recommend that Maui should be your first choice.
See part 1 of this article for a detailed review of A Maui Timeshare Experience at the Westin Kaanapali Ocean Resort Villas.