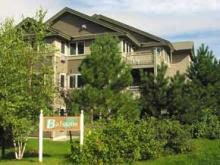 If you're looking for a truly wonderful place for a family ski vacation this year, look no further than Smuggler's Notch Resort in Vermont. Timeshare rentals at this resort start as low as $99/night allowing you to plan a real budget family vacation.
Tucked into the very heart of the beautiful Green Mountains, Smuggler's Notch is known for its family activities and children's training programs, and consistently ranks among the top family ski resorts in North America. The resort's Snow Sport University provides learning programs for ages 3 to 17, and the Junior Knuckle Draggers (aka snowboarders) begin as young as four. Adaptive skiing programs for children with special needs are also available.
The resort's "Treasures" is a state-of-the-art child care center created for infants and toddlers, and earns raves for its well-trained, attentive staff. The care center includes a safe outdoor area where the little ones can romp in the snow, and a snow table indoors that is filled up with fresh snow for the children to play with. Even toddlers start learning about skiing with the Little Rascals on Snow program's Magic Carpet ride located on the Treasures grounds.
The children's programs also include a kid's ski race every Thursday afternoon – all participants get a cookie at the end and lots of laughing parents with cameras to cheer the little tykes on.
Besides skiing, other family activities at Smuggler's Notch include snow tubing, snowmobile tours, dog sledding, and ice skating, as well as arts and crafts workshops and teen centers and events.
One member has this to say: "If this isn't the best place in New England for kids and adults, Spring, Summer, Fall, and Winter – I'll eat my ski helmet. This is like Disney but real."