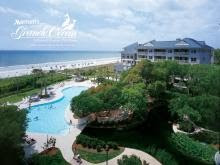 Planning your vacation for 2010? Consider wonderful Hilton Head Island in South Carolina. With over 12 miles of beautiful beaches along the sparkling Atlantic Ocean, just an hour and a half drive from historic Charleston, SC and only 20 miles from the charms of Savannah, Georgia, this could be the perfect spot for a family vacation.
It so happens that Hilton Head is home to Marriott's Grande Ocean resort, placed in the Top 25 Timeshare Resorts by Redweek.com members. Timeshare rentals start at a budget-approving $121/night at this kid-friendly resort. Besides a kiddie pool and children's playground, special activities for kids include tee shirt tie-dying, ice cream socials, candy making, and constructing shark tooth necklaces.
The rich history of Hilton Head includes playing an important role during the Civil War as a staging area for Union blockades of Southern ports. When the island fell to the Union Army, ex-slaves flocked into the area where they were free to buy land and attend school. Descendents of these freed slaves, known as the Gullah, still inhabit the island, and have kept their rich traditions.
Every February the Gullah Celebration is held at Shelter Cove Community Park, a festival showcasing the unique Gullah culture. During the summer the acclaimed Hallelujah Singers present a Gullah concert series celebrating the Gullah people in ethnic song and dance.
For the nature lover, Hilton Head can't be beat. The island is known for its miles of bike paths criss-crossing the island, and bike rentals are available on-site at Marriott's Grande Ocean resort. On your rides look for native wildlife that includes alligators, White-tailed deer, and hundreds of bird species.
During the summer months join the Coastal Discovery Museum's Turtle Talk and Walk, a special tour that educates the public on the highly endangered Loggerhead Sea Turtle, easily seen along the beaches.
Hilton Head is also one of the few places on the planet where dolphins practice what is known as "strand feeding." You may get to watch this unusual sight where dolphins herd schools of fish up mud banks along the shore, then lie on their sides and feed before sliding back into the water.
The dolphins appear to enjoy Hilton Head, and so will you. With so many things to see and do, and so many beautiful beaches where you can relax and unwind, renting a timeshare here would be some of the best vacation planning you could do.
See all Hilton Head Island timeshares.