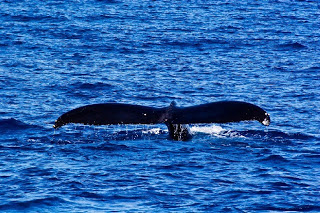 Have you ever thought of planning a vacation around whales? January begins prime whale watching time for San Diego, Cabo San Lucas, Mexico, and the Hawaiian Islands. Rent a timeshare in any of these areas and give your family the thrill of a lifetime.
San Diego, California
The magnificent gray whale migrates annually from its feeding grounds in Alaskan waters to the warm shallow bays of Baja California where they give birth and raise their young. This amazing journey (10,000 miles round trip) takes the gray whale right past San Diego. The best time to see these wondrous mammals is from January through March. Besides whale-watching cruises, San Diego offers other whale-watching opportunities at the glassed-in observation area at Cabrillo National Monument, and Scripp's Aquarium's celebration of "Whale Fest." See San Diego timeshares.
Cabo San Lucas, Mexico
Cabo San Lucas is right where the action is. The end of the migration for the gray whale is at this resort area's front door. Here, from January through March, you'll be able to see these creatures up close and in abundance. After giving birth mothers can be seen playing with their calves and teaching them to swim. When the calves have matured enough to leave the safety of the shallow lagoons male grays will take them on short swims out through the Sea of Cortez. Available whale-watching charters and tours out of Cabo San Lucas range from a huge 96-ft sailing ship to private sail boats, from catamarans to kayaks. See Cabo San Lucas timeshares.
Hawaiian Islands
Off the coast of Hawaii is where the gigantic humpback whales end their migration from the Arctic. Here the magnificent kohola (the Hawaiian word for the humpback whale) relaxes in warm tropical waters and gives birth to new generations. Like the gray whale, the humpback is a curious animal and often will swim right up to a boat or even swim beneath it, giving whale-watchers a real thrill. While the humpbacks can be seen from Oahu, the prime viewing areas are off the coasts of Maui, Kauai and the Big Island. Prime viewing is December through March. See Hawaii timeshares.