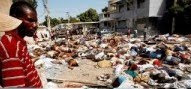 This week, on January 12, a 7.0 magnitude earthquake struck Haiti. As timeshare owners watch the news and read about the devastation, you may be wondering how you can help. There are recovery efforts around the world working hard to assist Haitian earthquake victims. You can make a donation to one of several organizations ready to assist these disaster victims and help rebuild their lives and their communities.
Where Can I Send a Donation?
UNICEF is sending clean water and sanitation supplies, therapeutic foods and medical supplies. They will also focus on providing temporary shelters protecting children who have become separated from their families.
CARE already has 133 staff members coordinating with the U.N. to distribute food. They are prepared to quickly ramp up and deploy more aid in the critical areas where it is needed once more details of the situation has been assessed.
Beware Donation Scams
Out of the goodness of those timeshare owners willing to donate money, comes the high probability of scams being set up to take advantage of generosity. Follow these helpful tips to keep yourself safe:
If you receive an unsolicited email message (SPAM) claiming to provide aid to Haiti, do not click on the links or open any attachments. It may be a phishing email looking for your personal data or hold viruses that can spread to your computer.
If there is an organization with a name you do not know, research them on the following sites to confirm they are legitimate: Better Business Bureau; the Foundation Center, or Charity Navigator
Look at the URL of the web site asking for your donation. Be wary if it ends in a series of numbers. You should expect that a nonprofit group would have a web site that ends with .org, NOT .com.
Be extremely skeptical of Web sites that ask for detailed personal information, such as your Social Security number, birth date or bank account. Never provide your pin number. That may leave you vulnerable to identity theft.
(Photo credit metropolehaiti)