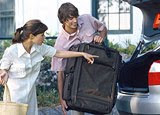 We are right in the swing of the ski season and many of you are renting timeshares at wonderful ski resorts and planning a fabulous trip. Or, at least you thought you would be until the reality of today's air travel baggage costs hit you when you went to check in your luggage and your ski equipment.
Most airlines are attempting to recoup lost revenues by charging for checked baggage. If you are checking a suitcase plus your skis and your ski boots, you are going to get hit with charges that can increase your flying costs by a couple of hundred dollars. When planning your timeshare vacation, especially if you're going skiing, follow these tips:
Not all airlines are the same. Currently Southwest is the only airline that does not charge for the first two checked bags, and JetBlue will give you one checked bag for free. AirTran, Alaska and Frontier are the next three cheapest for checked bags. Choosing one of these airlines to fly, regardless of finding a cheaper fare on another airline, will save you money.
Pack light. See our previous post 6 Tips for Packing Light on your Timeshare Vacation for ideas on how you actually can cut down on the amount of luggage you take with you. Following these tips, may actually help you put everything you need in a carry-on bag. (Remember that your timeshare rental will have a washer and dryer.) That will leave just your skis and boots to be checked.
Consider shipping your skis and boots ahead of you. When you rent a timeshare the resort's management will be happy to hold your ski equipment for you until you arrive. If you really want to take lots of bulky clothing with you, that can be shipped, too. Whether you ship via UPS, FedEx, or USPS the cost is a fraction of what checked baggage fees would be, and you won't have to worry about having your expensive ski equipment or your favorite outfit lost by the airlines.
(Photo from TSA.gov)