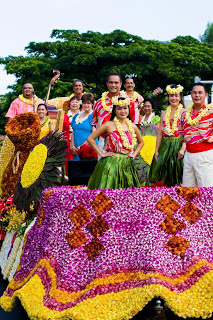 Tired of Winter? Get out of the winter doldrums and take a March vacation to Hawaii. Rent a timeshare on Oahu in time to attend the amazing Honolulu Festival to be held the weekend of March 12-14, 2010.
The Honolulu Festival is the "premier cultural event" of Hawaii. This 3-day festival celebrates the diverse culture of peoples of the Pacific Rim, from Australia to Alaska.
The Honolulu Festival was created in 1995 as a means of promoting cultural understanding between the people of Hawaii and Japan, but has grown to include most of the Pacific Rim countries. Since 2000 it has been administered by the non-profit Honolulu Festival Foundation.
Over 5000 participants from Pacific Rim countries come together to showcase their special cultures in costume, dance, song, stories and yes, delicious food. The Festival is so huge that it's presented in several different locations including the Hawaii Convention Center, Ala Moana Center and Waikiki Beach Walk.
Participating at the 16th annual Honolulu Festival in 2010 will be the much sought-after Daidengaku dancers of Japan. Originally during the ancient Kamakura Period this dance was a Shinto ritual thanking the deities for a bountiful harvest. The dance is unique in that it not only became popular with the court nobility and samurai but the common people as well, evolving into a cultural icon for all Japanese citizens. Today it has been revived in a contemporary form and wherever it is performed the dance troupe involves local citizens in the productions.
Another exciting performance in 2010 will be by the Alaska Native Heritage Center Dancers from Anchorage. Native Alaskans, including Eskimo, Inupiaq, and Aleut will bring the U.S.'s northern most culture to the U.S.'s southern most culture, demonstrating to south sea islanders a culture that evolved in a completely different climate. The traditional ways of native Alaskan cultures will be exhibited through dramatic interpretive dance, music and drums.
The Honolulu Festival culminates in the spectacular Grand Parade that passes through Waikiki along Kalakaua Avenue. All of the Festival's participating countries will march in this colorful parade, including entertaining dance troupes, drum corps, music groups, and even acrobats. Seeing the Festival while staying in your Honolulu timeshare is a once-in-lifetime opportunity for the entire family to experience the marvelous cultures of the many diverse countries of the Pacific Rim.
See all Oahu timeshares.