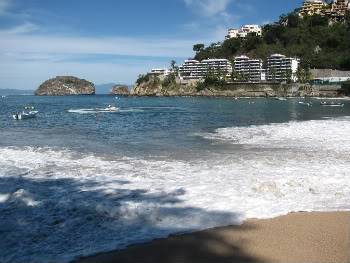 Planning a timeshare vacation to Mexico? To help you decide where to rent a timeshare for a fabulous Mexico family vacation, we'll explore the differences between the destinations of Puerto Vallarta, Mazatlan, Cabo San Lucas and Cancun.
Puerto Vallarta
Puerto Vallarta is located on the Pacific Ocean's Bay of Flags (Bahia de Banderas). Thanks to its proximity to the Bay, to the agriculture of the Ameca River valley, and to Sierra mining centers, it has been a thriving Mexican village for several centuries.
The seeds of today's bustling resort city of nearly 200,000 were planted during the 1960s when Mexican law was changed to allow for private land ownership and therefore its sale. Originally centering on accommodating Canadian and American retirees and snow-birds, the word of Puerto Vallarta's beautiful tropical beaches has spawned such rapid resort construction that the area is the fastest growing in the Americas. See Puerto Vallarta timeshares.
Mazatlán
Mazatlan is located on Mexico's Pacific coast, just across from the southernmost tip of the Baja California peninsula. With a population of nearly 400,000 it is Mexico's largest commercial port. Until the early 19th century, Mazatlán was a small collection of huts inhabited by indigenous peoples whose major occupation was fishing.
Today this beach resort municipality is one of Mexico's most popular tourist destinations. And from here a car ferry takes visitors across the Gulf of California to La Paz, another Mexico resort favorite. Mazatlán was regarded by the generation of film stars such as John Wayne, Gary Cooper and John Huston as a sportfishing mecca. See Mazatlan timeshares.
Cabo San Lucas
Known simply as "Cabo" by Americans, is located, along with San Jose del Cabo, at the southern tip of the Baja California peninsula. A relatively small resort area, with a population of just under 60,000, it has the largest marlin tournament in the world. Cabo is known for a raucous party atmosphere, while its neighbor, San Jose, has a more laid-back colonial residential feel. The twin cities are bridged by the Tourist Corridor consisting of exclusive golf course and white sand beach resorts frequented by the rich and famous. See Cabo San Lucas timeshares.
Cancun
Cancun is on the eastern side of Mexico on the Yucatan Peninsula. In 1967 when the Banco de Mexico decided to develop a tourist city, the area had only 3 inhabitants and only 117 people lived in a near-by fishing village. Today, with a population of over 200,000, Cancun is known as "Mexico's Caribbean Jewel." There are over 150 hotels in Cancún with more than 24,000 rooms and 380 restaurants for the four million visitors that arrive each year to enjoy one of the most beautiful beach areas in the world. See Cancun timeshares.