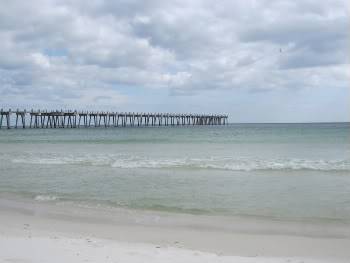 When most people begin planning their Florida beach vacation, the Gold Coast (Miami), the Treasure Coast (Vero Beach), and the Paradise Coast (Naples) come to mind for timeshare rentals. This time, how about stepping out of the box and considering the Florida Panhandle. Rent a timeshare at the Wyndham Panama City at Emerald Beach Resort and discover Florida's best kept secret.
The Wyndham Panama City at Emerald Beach Resort is located on Panama City Beach, an area that the locals like to say has "The World's Most Beautiful Beaches," due to the sugar-white sand of northwest Florida and the sparkling emerald waters of the Gulf of Mexico.
Within the tower of the Emerald Beach Resort you'll find spacious one-, two-, and three-bedroom timeshare units that include living rooms and fully-furnished kitchens. This resort provides chairs and umbrellas on the beach, two swimming pools and a hot tub, as well as the unique Sky Bridge Bar, and an outdoor Tiki Bar.
From 19th century plundering pirates to today's timeshare vacationers, people have been drawn to the beauty and bounty of the Panama City Beach area. Pirates laid in wait here for the richly laden ships bound for Spain, and hoarded their treasure at Spanish Shanty Point on Shell Island off Panama City Beach. So many ships, both of the pirates and the ones they attempted to capture, were sunk here that the area is known as the "Wreck Capital of the World" and offers many exciting spots for scuba diving.
Besides scuba diving, parasailing and jet skiing, Panama City Beach also offers kiteboarding, the hot new water sport trend.
Off the water there are plenty of 2010 events to keep you busy and entertained. Mardi Gras on the Beach, February 5 – 6, is complete with parades, a street dance with live bands, and authentic Cajon food. The Seabreeze Jazz Festival, April 15 – 18, has a full line up of award-winning jazz artists. For a unique experience plan to attend the Gulf Coast Horse and Music Show, April 21 – 24, that combines a premier multi-breed horse show with your beach vacation.
Panama City Beach Bike Week is celebrated on the first weekend in May and the last weekend in September with the Thunder Beach Bike Rally, one of the fastest growing motorcycle rallies in the country. And on November 5th indulge in the Taste of the Beach which features 300 international wines and food samples from the best local restaurants. See all Panama City Beach timeshares.