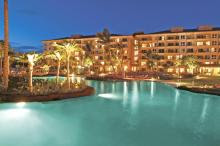 As you plan your timeshare vacation this year, how about the ultimate in pampering, relaxation and stunning natural beauty? Rent a timeshare at the Westin Kaanapali Ocean Resort Villas in Lahaina on Maui in Hawaii, and your family will experience all of these and more.
This resort has richly appointed rooms, an oversized free-form pool with a 100 foot slide, and even offers a grill area that has sunset views. For your teens there's a game room, and the younger set will enjoy a children's activity and care center.
The Westin Kaanapali is set along a pristine expanse of Ka'anapali's North Beach which has been ranked on the "America's Best Beach" list. There is even a farmer's market an easy stroll up the beach walk toward Honokowai where you can get "the best fruits and vegetables on Maui" for your timeshare kitchen.
While staying at your Westin Kaanapali timeshare try some fun activities such as horseback riding. Several stables on Maui offer rides that will take you through breathtaking scenery not otherwise accessible by the public. The Mendes Ranch is a short drive from the Westin Kannapali and is actually a working cattle ranch. It offers horseback riding tours that will take you into lush tropical rainforests. At the Eki Crator you can view some of Maui's largest waterfalls. Finally you'll find yourself cavorting with your horse through the surf of the blue Pacific Ocean.
Perhaps some members of your family might prefer a bike ride. Join the Downhill Maui Bike Tours on an unforgettable sunrise trek down from the summit of Haleakala to the sea. You'll be riding on a custom-built chrome Downhill bike with Hawaii-certified guides. Everyone is provided with a state of the art safety helmet, and because of the cooler temperatures at Haleakala's summit you are also given a warm windbreaker suit and insulated gloves.
Another must-do activity on Maui is joining the Hana Cave Tours. Hike with experienced cave guides through lavatube caverns complete with stalagmites and stalactites. Hand rails are provided along the easy cinder trails, and surprisingly the subterranean temperatures here are comfortable. Those in your family who choose to stay above ground can spend time wondering through the beautiful, and fun, Red Ti Botanical Garden Maze, the only one of its kind in the world.