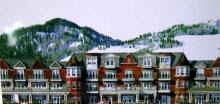 Aspen is the darling of all of Colorado's ski resort towns. Founded in 1879 as a silver mining camp, during its peak years in the early 1890s it was the most productive silver mining district in the United States. Today it is an upscale tourist center and a popular destination for celebrities. It's a popular destination for vacationers, too. You can rent a timeshare here and hob nob all you like.
Well known for its spectacular mountain landscapes, Aspen nestles in the high Colorado Rocky Mountains along the Roaring Fork River, a tributary to the mighty Colorado River. The town was made most famous by its long-time resident, singer John Denver, who wrote several songs about it, including "Aspenglow." Today many celebrities have second homes here, including Goldie Hawn, Michael Douglas, Lance Armstrong, and even Prince Bandar, former Saudi ambassador to the United States, who has recently listed his 56,000 sq. ft. Aspen compound for $135,000,000 USD.
Not only is Aspen in a beautiful locale, and it's always fun to rub shoulders with celebrities, but there's some mighty great skiing to be done there, too. The four local "super quartet" of mountains: Aspen, Snowmass, Aspen Highlands and Buttermilk will give you some of the best skiing to be found anywhere in the world. By renting an Aspen timeshare at one of the following resorts you can stay in Aspen and have it all.
The Hyatt Grand Aspen (see photo above) is a boutique resort built in the Victorian style, and is conveniently located right next to the Aspen Mountain gondola. The units come complete with fireplaces, Jacuzzis and granite countertops. You'll be pampered with a free continental breakfast, twice daily maid service, and even delicious toffee bars with a nightly bed turndown. Even the simple studio suites have a fireplace, a 40-inch TV, a bathroom with heated tile floors, and a patio with teak chairs.
The Ritz-Carlton Club-Aspen Highlands has been, in its own words, "perfecting the art of hospitality, providing our guests with an elegant sanctuary where every wish, no matter how simple or extravagant, will be fulfilled." For skiers it is a fabulous ski-in, ski-out resort, complete with ski valet, and transportation to all other local ski areas. This resort is surrounded by terrain, including the legendary "Highland Bowl," for every class of skier.
For world-class skiing and snowboarding, 5-star restaurants, and the experience of a lifetime, rent a Colorado timeshare in Aspen!