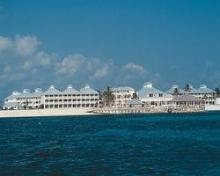 Planning your 2010 family vacation? Rent a Grand Cayman timeshare, and enjoy a taste of the beautiful Cayman Islands in the western Caribbean Sea. Grand Cayman offers a multitude of places to see and things to do for every member of the family.
The islands are actually "coral heads" that cover the ice-aged peaks of a massive underwater ridge. Grand Cayman, at 76 square miles, is by far the largest of the three Cayman Islands, and is the location of the beautiful resorts, most of which are spread along Seven Mile Beach. World renowned for its stunning beauty, this beach was recently honored as "The Caribbean's Best Beach" by Caribbean Travel and Life Magazine.
This is a public beach so you can enjoy the unique opportunity of walking unhindered the entire length, past the resorts and villas. Along Seven Mile Beach (which is actually just five and a half miles long), you'll find restaurants open to the public in the various resorts, and several public beach bars. Open grilling is allowed, and pets are free to roam the beach off leash.
Stingray City is the popular snorkeling area where you can actually play with friendly stingrays, many of which are tame enough to eat out of your hand.
Boatswain's Beach is a 23 acre marine park that includes the government-owned green turtle farm. Your family can enjoy many different water games in the largest fresh-water swimming pool in the Cayman Islands. Predators Reef offers a close-up look at sharks and other predatory fish in a unique setting under a thatched roof, surrounded by lush tropical vegetation. Two sparkling lagoons have coral and colorful marine life, splashing waterfalls, and party beaches. Through-out the summer children ages 6 – 12 can attend the Boatswain's Beach Summer Camp with daily fun activities that teach an appreciation of the environment, marine wildlife, and Cayman's unique cultural heritage.
Morritt's Tortuga Club timeshare resort (see photo) offers a complete diving, snorkeling, and windsurfing program plus an array of activities and nightly entertainment. For those with young children, the resort has a playground with swings and a slide plus three pools. Adults will enjoy the water exercise program and swim up pool bars.
A timeshare vacation on Grand Cayman will give your family a grand experience on a wonderfully unique island in the Caribbean.